Life Hacks & Tips, Kids
5 Savvy Tips For Cleaning The House With The Kids
So cleaning the house is not our favourite thing to do. Actually, it doesn't even hit the top 50 tasks to do on a boring day, but sometimes you just look around and realise it's time. The kids toys have completely taken over the house - you know this to be true, when you find a Minion inside the dog's bowl and a puzzle piece in the washing machine. The play-doh you made from scratch was an awesome idea, at the time, but now it's somehow stuck itself to every surface and is starting to take on a life of its own. And to top it off, the mother in law has called to inform you that she will "pop in" soon.
Here are our tips on getting the job done quick smart: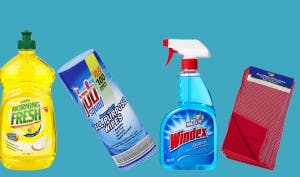 1. There is no I in team
Team effort will get the job done quicker. Delegate the tasks so it's fair.
2. Make a List
Make a list of chores that need to be done. Tick each one, once completed. This will motivate the team to complete the job.
3. Noise
Pass the time by turning the radio on and channel your inner Tom Cruise moves from the movie Risky Business while vacuuming (perhaps with more clothing than him).
4. Reward
This doesn't mean monetary. Cleaning doesn't exactly scream fun, so work towards a reward for the hard work you have all done. Whether that is watching a movie or having a picnic by the park. Having something to work for is a great motivation tool.
5. Show appreciation
Thank the team for their time and effort cleaning up…. until next time!
All products or variations featured can be found in store.
Sign up to receive exclusive offers, VIP invites and all our hints & tips