Ideas for you to have a fun Easter egg hunt this 2020 Easter Long Weekend Holiday
What do you remember most about Easter as a child? Was it just four days off school? Did you go away camping with the family? Or is your greatest memory that epic hunt for shiny Easter eggs on Sunday morning? Now it's your turn to create a fun time for your kids this Easter. Read on and discover ways to fill their hearts with glee this Easter long weekend.
The Easter long weekend starts Friday the 10th of April and goes through to Monday the 13th of April. The Reject Stores are open over the Easter weekend, however, check our website for opening times of your closest store.
Start Easter Sunday with a little Easter Egg hunt at home with just you and the kids. The Reject Shop has some adorable cut out rabbits' feet, and some Easter themed road signs, to show where the little bunny has been. Throw in some chewed up carrots, a scrunched-up rug where Easter Bunny had a nap and sprinkle some flour on the ground and make some bunny footprints too. It's a cute little trick which works well with the carrot to make it look like The Bunny has visited.

Tips to have an eggsellent Easter egg hunt
Clues are good
Having some hand cut colourful arrows pointing here and there can be fun. Little paper cut outs of rabbit's feet leading to some bushes as well. There are fun ways to help the kids find all the chocolate.
If you have older kids, who don't need help, how about a separate hunt for them? More challenging, harder hiding spots? No clues?
The older kids could even team up with the younger kids and help each other out!
Hiding eggs if it's raining cats and dogs
Easter in Australia is very close to winter. The likelihood of rain can be as high as a bunny's ears. If you don't mind your kids running around in the weather, then hiding eggs and bunnies in trees or in bushes is great. Just have a warm set of clothes and a hot chocolate waiting for them afterwards.
Hiding eggs and rabbits under cover, such as the veranda, or even inside, if you're game, is great for an all-weather kind of egg hunt.
Remember to be fair
Some kids are going to be overly egg-cited and run all over the place and find a million eggs. Some kids will wander around and find maybe one or two. Different kids play differently, that's cool. Once all the eggs are found, encourage those with more eggs to share with the others. Everyone gets an equal share of the eggs.
Easter Egg Buckets for all
The Reject Shop has an adorable range of baskets and buckets for your kids to collect eggs in.
We have a felt Bunny Bag, an Easter themed bucket or even a metal bucket they can fill up.
What eggs should you hide?
The Reject Shop has a wide range of eggs and chocolate which would be perfect for hiding in the garden, in pot plants, up a tree,
wherever your best hiding spots are.
We have small chocolate eggs and the larger chocolate eggs. The Reject Shop also has traditional Cadbury eggs which are a family favourite.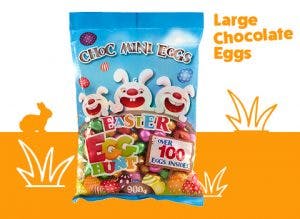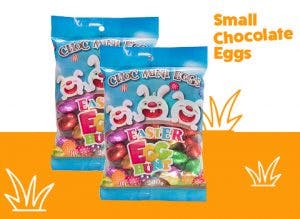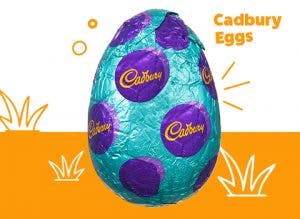 To mix it up a little, hiding chocolate Easter bunnies is a great idea. We have 3 special Easter bunnies for you to choose from:
• Kinder Bunny in a great little 6 pack
• Smarties Bunny 4 pack
• Cadbury Bunny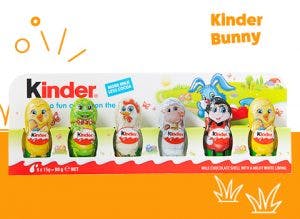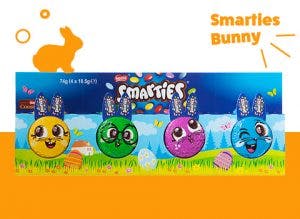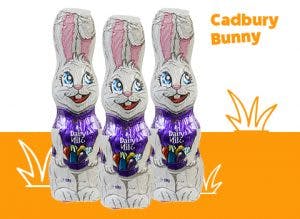 If you're having a picnic or party at a house where there are pets, remember that chocolate is not good for our furry, four legged friends.
Not all eggs have to be chocolate. Painting hard boiled eggs.

A fun Easter activity can be painting your own hard-boiled eggs.
Hard boil some eggs and cool them in a fridge overnight. When they've cooled down you can dye them or paint them.
To dye your eggs, you will need to do the following:
• Mix ½ cup of boiling water
• 1 teaspoon of vinegar
• 10-20 drops of food colouring.
Then..
• Dip hard-boiled eggs into the mix for about five minutes.
• Remove with an egg spoon or tongs and allow to dry.
For some interesting effects, you can glue and wrap string around your eggs before you dye them. You can also stick on stickers
for shapes, such as stars or love hearts or even bunny shapes.
To take this up a level, once you have dyed your eggs and let them dry, then wrap some string or add some stickers to the shell.
Dip the eggs into another colour and see what happens. You can get a crazy amount of shapes and patterns this way. This is called 'masking' and can give you some wonderful egg designs.
If you want to paint your eggshells, acrylic paint works best. The Reject Shop has a wide range of acrylic paints to choose from.
A pack of 14 acrylic paints for just $5 and a pack of 12 brushes for $4 will get you started.

Easter is hopping up on us very quickly, so make sure you scramble into store and grab your chocolate egg and rabbits and pick up your painting supplies while you're there. Check the opening hours of your local Reject Shop so you have no egg-scuses to be short on chocolate.
Discover more Easter bargains in store today. Have a great Easter and remember- don't worry be hoppy!