Organising your pantry on a budget
The pantry is the heart of your kitchen. Everything you need to make choc chip cookies is in your pantry. Breakfast cereals, pasta and other dry goods are stored here too. An organised pantry is inspirational. It will make you want to cook, bake, make a meal fit for a big family. It can save you money, knowing what foods you have. Let us show you how easy it is to clean and organise your pantry, plus we'll give you some easy recipes for those preserving jars you've picked up from The Reject Shop. 
Looking to stock up your pantry? We stock an extensive range of groceries.
 What you will need to Organise your Pantry
Cleaners
undefinedundefined
Clip Top Jars 
undefinedundefinedundefined
Best Containers for Pantry Organisation  
undefinedundefinedundefined
Pantry Organisation Baskets
undefined
Pantry Labels 
undefined
Step 1 – Remove Everything
Clear out all the food stuffs, all the containers, everything, from your pantry. You want it completely empty. 
Wipe down the shelves, give your pantry a good clean. 
Throw away any food which is a long way over the used by date. 
Make a plan on where you're going to store your food and other pantry items. 
Step 2 – Pantry Organisation and Labelling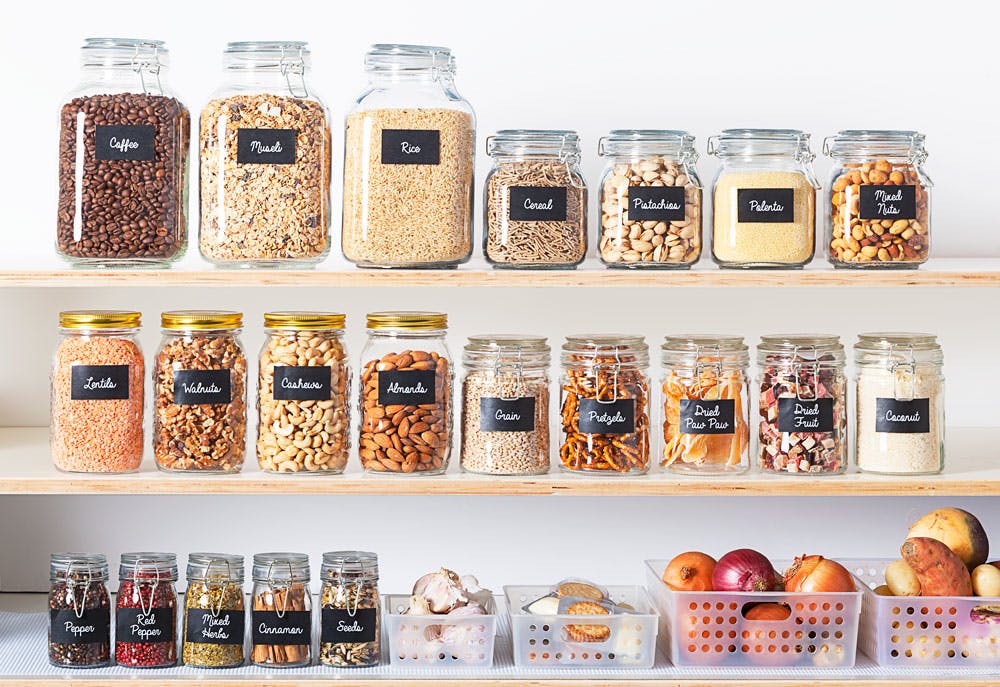 This step consists on organising your dry food into storage containers. This is good for a few reasons: 
An organised pantry can reduce food wastage. When you can see how much food you have in clear glass jars, you may be inspired to use those ingredients in your cooking. 
Organising your pantry can save you time. If you know where everything is, you don't waste time searching and foraging for it. 
Organising items in glass and plastic jars helps speed up the cleaning process. 
Now you need to clean and sterilise your jars. 
How to sterilise your glass jars in 4 easy steps
Wash thoroughly in hot soapy water. Rinse and drain them. 
Place on oven racks with some space between them. Heat for 10-15 minutes on 120C 
Glass Jars can also be put through your dishwasher on a hot cycle. 
Sterilise metal seals in boiling water for 5 minutes and then leave to drain. 
** Please be careful when washing with hot and boiling water. Also, use protective oven gloves when handling jars in the hot oven. ** 
You should sterilise the jars for cleanliness, and because you may want to use them for preserving or pickling. Keep reading to learn more.
Now you can label your jars. Decide what foods will go into what jars, and label appropriately. If you have handwriting which is difficult to read, may we suggest our range of labels from The Craft Stall? $4 gets you labels for everything from sugar and flour, chickpeas, onion salt and so much more. 
Step 3 – What foods to store in your pantry 
Hard Staple Foods: 
Rice 
Dry Beans 
Lentils 
Assorted Pasta 
Baking Staples 
Additional foods to store in your pantry can include:  
Pasta sauces 
Cooking oils and liquid stock. 
Herbs and spices (which can last up to 2 years with the proper storage) 
Canned fruits and vegetables prior to opening 
Breakfast Cereals 
Storage Hacks for your Pantry 
It is likely that you store more than just food in your pantry. Cookbooks, cling wrap and more are often found in pantries Australia wide. Here are some ingenious ways you can organise your pantry using items found in The Reject Shop. 
Do you have some space between the pantry door and the shelving, you can utilise the back of your door using our 3 pack of over the door hooks. 
You can hang bags of vegetables, such as potatoes or onions. You can have bags of bags- reusable shopping bags for the super market. 
You can hang a shower caddy from one of these hooks and have all your sauces neatly stored together. 
If you don't have a door which suits the over the door hooks, then a pack of 12 adhesive hooks can help you with storage and organising. And these hooks can be easily removed later, leaving no marks behind. 
What better place to store your recipe books than in the pantry? The best way to do that is with a magazine holder. 
Another great use for the magazine rack is to store your plastic wrap, rolls of baking paper and cooking foil. 
Pickling and Preserving 
Pickling and preserving is both a great way to save and store food, it is also a rewarding activity. Making jams and marmalades, pickling foods for later use is a great creative activity during these days of isolation. Gifting what you've made in your kitchen to friends is also a great idea. 
The best thing is, it is a really easy and simple thing you can do. Let's show you how. 
Clean Jars 
We've already shown you how to sterilise your jars. Before you put any foods into your jars, follow the instructions on cleaning and sterilising your jars. 
Fast Jam 
Ingredients 
Berries – raspberries, strawberries, blue berries- your choice. 
Castor Sugar- weight equal to the amount of berries you have. 
1 lemon 
Method 
Put your berries and castor sugar into a saucepan. 
Squeeze the juice of a lemon into the mix. 
Heat slowly, stirring regularly. 
Bring to the boil. 
Reduce heat and simmer until sugar has dissolved. 
Test mixture by running a drop of the jam down a cold plate. If it moves real slowly, then it is ready. 
Pour mixture into sterilised jar and put the lid on. 
Allow time to cool. 
Pat yourself on the back. 
** Please be very careful when dealing with hot and boiling foods. Hot sugar is a common cause of kitchen burns. **
Easy Marmalade 
Ingredients 
6 Citrus Fruits – Lemon, Orange, Grapefruit. 
1 kg fine sugar 
(Optional) small amount of crystallised ginger. 
Method 
Wash the 6 fruits thoroughly. 
Cut fruit into quarters, skin on. 
Place fruit into food processor and chop until finely ground, skin included. 
(Optional) Add crystallised ginger during food processor stage. 
In a large saucepan, boil the fruit mix with 1 kg of fine sugar for 20 minutes. Stir with wooden spoon. 
When consistency is to your liking, pour into suitable jars and let cool. (Jars have been sterilised) 
Give yourself a hi-5 
Peaches
Ingredients 
10KG of Peaches (or plums or apricots) 
4 litres of water 
4 cups of white sugar 
We do recommend the 1 litre preserving jars for this recipe. 
Method 
Chop up your fruit into slices or chunks, however you want them preserved. (Remove the stones from the mixture) 
In a very big pot, bring the water and sugar to boil. 
Very carefully add your fruit to the boiling mixture. 
Cook for 10-15 minutes, until JUST soft. 
When ready, scoop fruit into sterilised jars. 
Fill jars up with syrup from the pot. 
Run a knife down the inside of the jar to help remove any air bubbles 
Top up with more syrup. 
Clean and seal jars and let cool. 
Show your friends how awesome you are. 
Pickle some onions 
Pickling is another great way to preserve fruits and vegetables and add a taste sensation to your dinner plate. It does take a little longer than jams and preser4ves, so you do need patience. However the end results can be stunning. 
Here is a simple way to give yourself some pickled onions. 
Ingredients 
About 900 grams of pearl onions, peeled. 
2 tablespoons of salt 
2 cups of malt vinegar 
¾ cup granulated sugar 
4 teaspoons of pickling spice * 
2 bay leaves 
 Pickling Spice
You can pick up pre-made pickling spice, or make your own. Here is how to make your own. 
Ingredients 
2 tablespoons black peppercorns 
2 tablespoons mustard seeds 
2 tablespoons coriander seeds 
2 tablespoons dill seed 
1 tablespoon allspice berries 
2 bay leaves- crumbled 
1 tablespoon crushed chilli flakes 
Method 
Combine all ingredients into a bowl. 
Stir to combine ** If you have a mortar and pestle, use this to crush and combine. **
Look online or in-store for the Hoyt's range of spices from The Reject Shop to customise your Pickling Spice. 
Pickled Onion Method 
Put the onions in a bowl and sprinkle salt. Mix well. *leave overnight* 
Rinse onions well and dry. 
Place onions into jars. 
To a saucepan add vinegar, sugar, bay leaves and Pickling Spice.  
Heat over a medium heat until sugar is dissolved.  
Do not boil or breathe in fumes 
Pour your vinegar over the onions until they are completely submerged. Seal the jars tight. 
Store in pantry for 3-4 weeks before eating. 
Refrigerate after opening. 
Do the dance of a winner 
There you have it. It's really easy to clean and organise your pantry, and The Reject Shop has the cleaning and storage essentials you need at very low prices. Plus you can start your journey into the world of jams and preserves, pickles and more. 
There is so much to discover inside The Reject Shop. We will always find a way to help you save money on all your essential items and needs.