For the majority of us, we think that as long as our clothes aren't on the floor that's our job done. But, let's face it – it still looks a bit of a mess, right? It's important to consider how the right hanger will have your clothes looking as good as when you purchased them from the store.
Your hangers should be a one-time investment so you can keep your clothes in shape and have your wardrobe looking organised and clutter free. A dream!
Like many, our client went through the struggle to keep her wardrobe looking tidy and uncluttered. However, with the right choice in hangers and a clever new organising system, it was finally easy for her to maintain her wardrobe on a daily basis. Good news – it's not that difficult! You too can create an easy and streamlined process with some simple steps. So, keep these top tips in mind when considering purchasing new hangers for your wardrobe.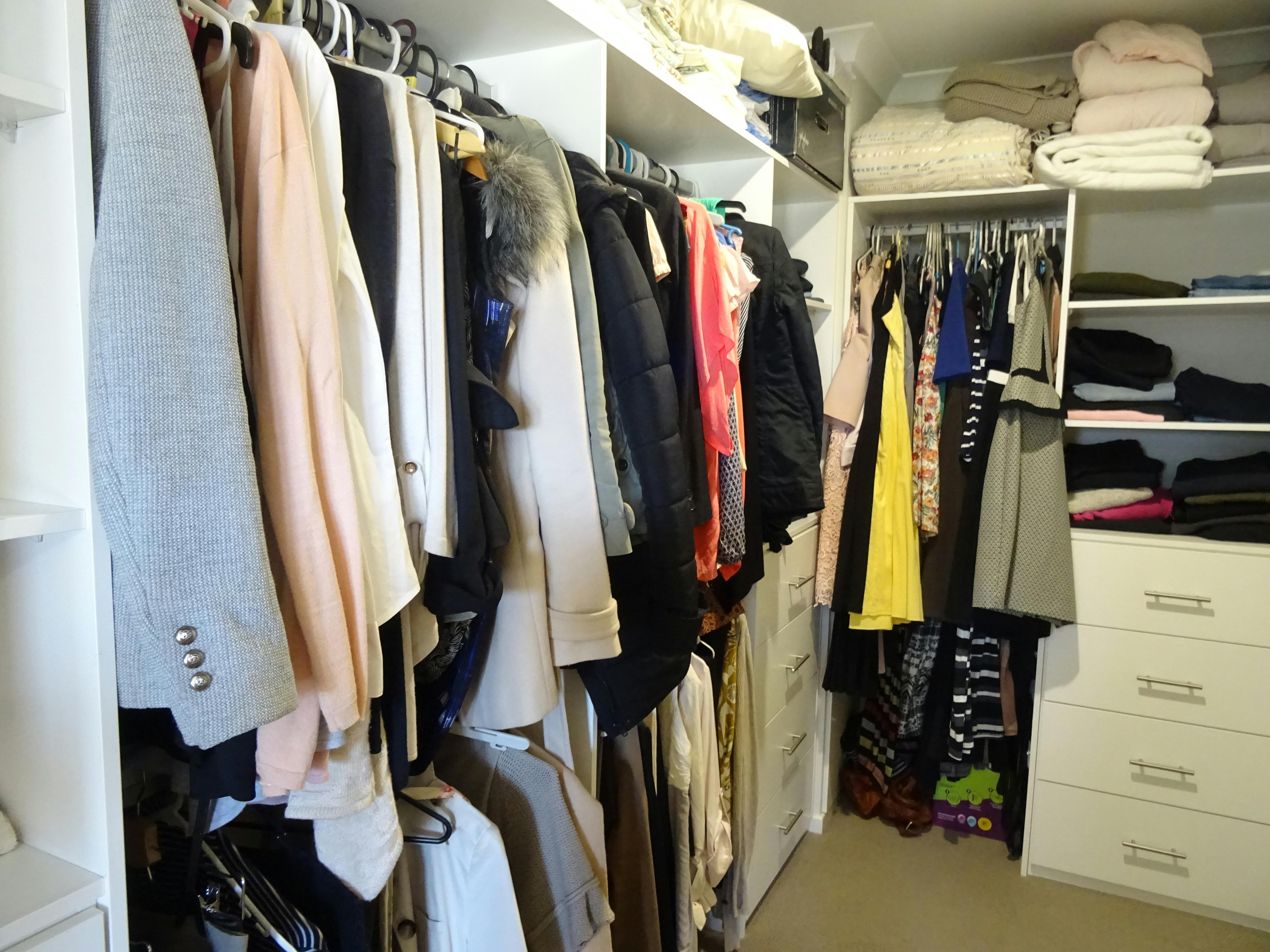 [caption id="attachment_2299" align="aligncenter" width="764"] THE BEFORE[/caption]
CHOOSE THE RIGHT STYLE
It's time to ditch those flimsy plastic hangers that change shape and let your garments slip off onto the floor adding unnecessary annoyance to your day. Our most recommended choice is the non-slip velvet clothes hangers, as the majority of ladies clothing can be placed on them without ruining the shape of your clothes. They are such a good space saver as they are flat and super thin meaning you can store much more. It's also designed to hold heavy weight garments such as winter coats and jumpers!
FIND A GOOD BRAND
We purchased these non-slip velvet hangers from The Reject Shop and found them to be quite durable, flexible and very affordable. In the past, we've used many different brand hangers and we were quite impressed that the swivel hook was sturdy and didn't snap off like others we have used previously. You'll be happy to know that the majority of your clothes can be stored on velvet hangers such as these.
KEEP IT TIDY BY STREAMLINING
Having the same hangers throughout your wardrobe will make a massive difference so things look much tidier. We've all been there when we somehow come home with the department hanger because the shop assistant finds it easier to pack it in the plastic bag rather than take it off. Say no to the temptation to hang it up as is. If you have spares ready to go it will take two seconds to make the changeover. Make less problems for future you!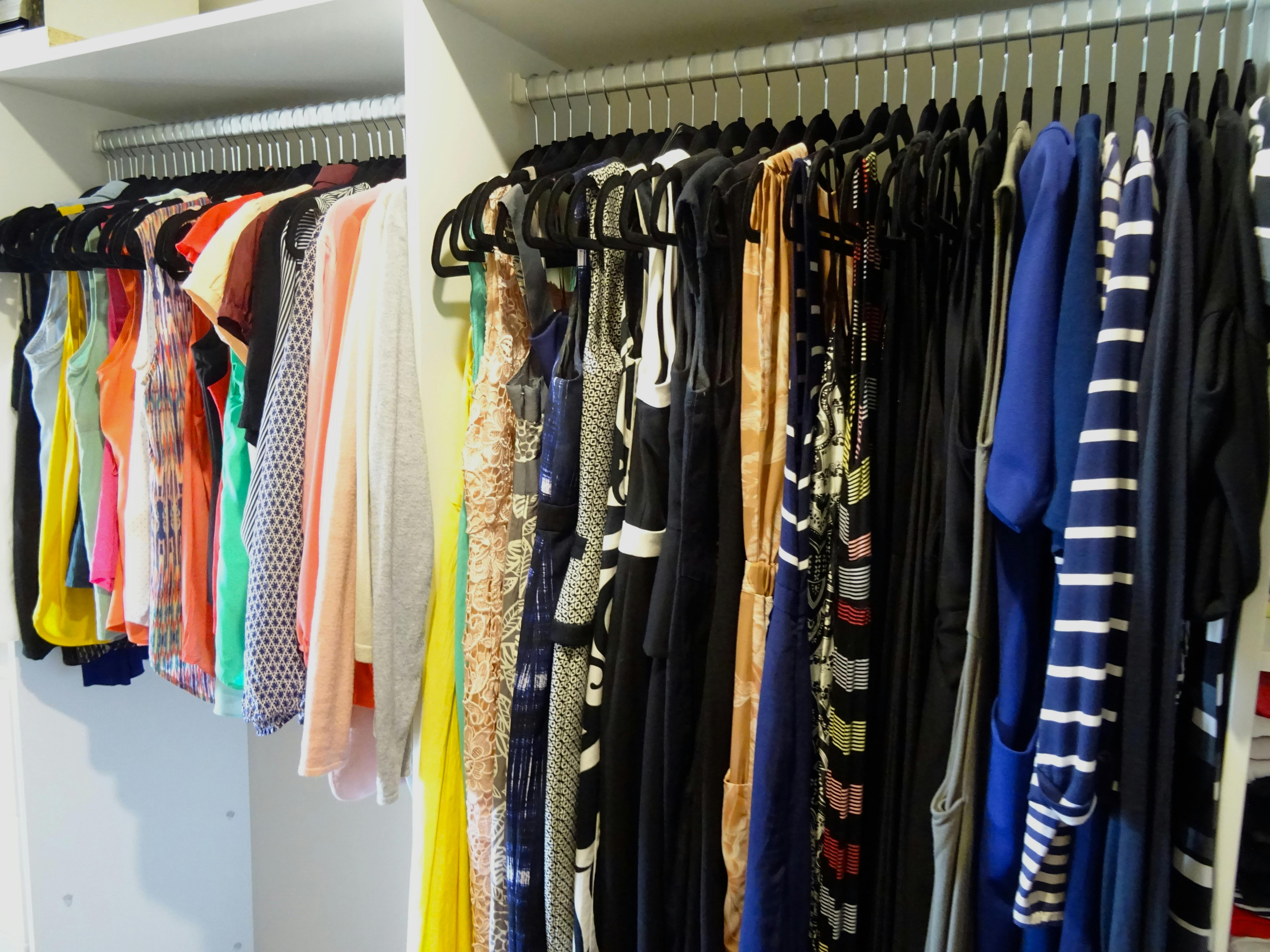 [caption id="attachment_2296" align="aligncenter" width="764"] STREAMLINING[/caption]
PURCHASE AN EXTRA BOX
Plan ahead and purchase an additional box or pack so you have no excuses when purchasing more clothes. You can either store the box at the top of your wardrobe or take out a small bundle of 10 at a time and store these in the corner your wardrobe for easy access.
CHOOSE THE RIGHT COLOUR
Stick with one tone such as black, white, neutral, etc., so nothing stands out dramatically. You'll be surprised at the difference it can make when things look consistent and coordinated for styling your wardrobe design.
HAVE A LAUNDRY SYSTEM
For easy maintenance have a system in place so that when you do your laundry you hang them straight on a hanger and once dry they can be popped straight into your wardrobe. The less you have to fold the easier it is for you to maintain in the long-term. Again, future you will be thankful!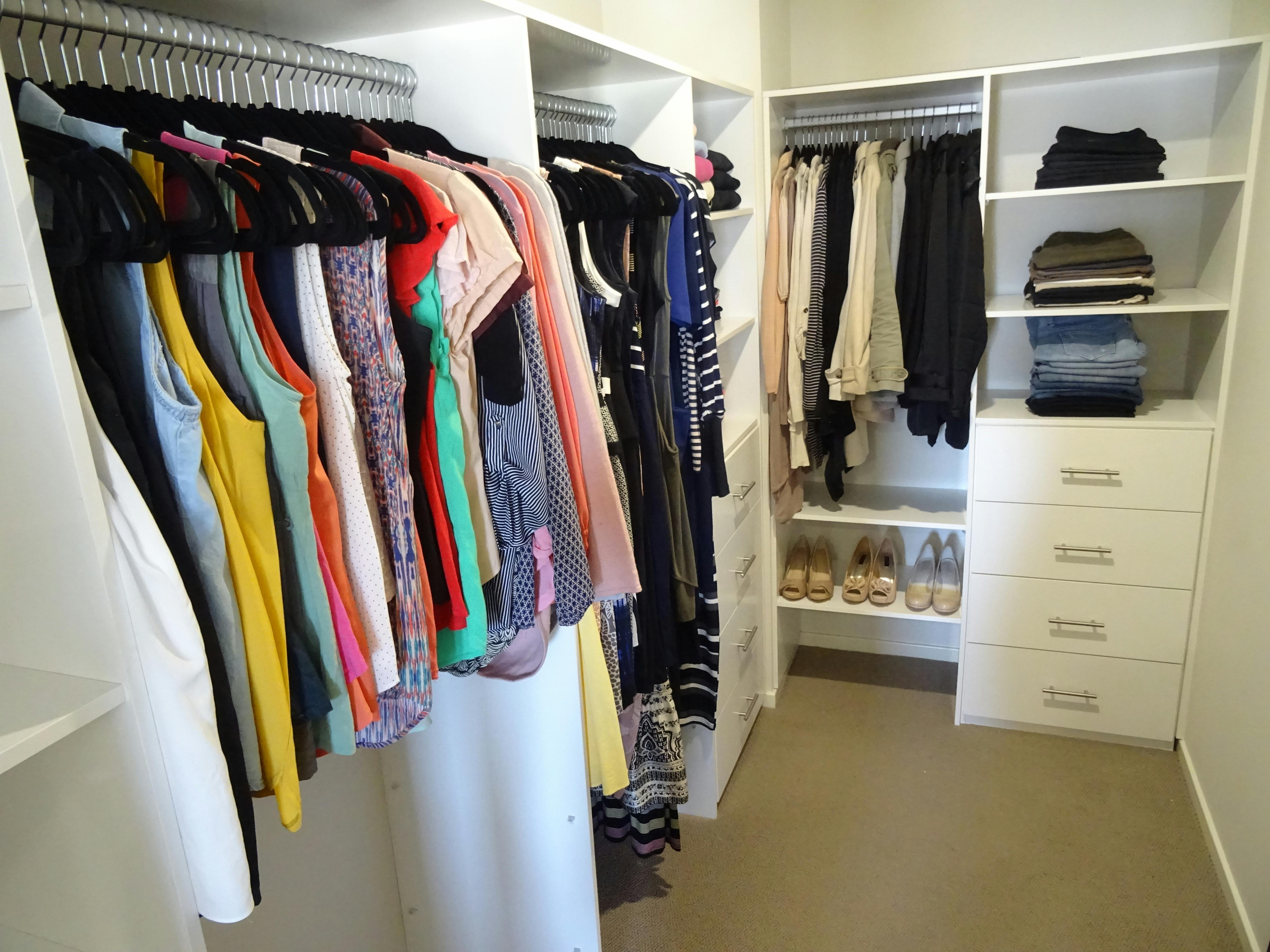 [caption id="attachment_2300" align="aligncenter" width="764"] THE AFTER. So much better![/caption]
You now have closet envy, don't you? You know how simple it is...
Watch the entire before and after time-lapse video here.
Happy Organising!
Xo
THE o.c.d | organise • clean • declutter
Professional Home Organisers