Recipes
Back To School Lunch Ideas
The Reject Shop asked me to come up with some back-to-school ideas for them recently.
The Reject Shop asked me to come up with some back to school ideas for them recently. It really got me thinking...have my eating habits changed since I was at school? And to be honest, they've pretty much stayed the same. I still LOVE food, I don't think I've ever been a fussy eater.
It helped that my mum always made the best lunches. I was the girl at school with lunches that other people envied – leftover schnitzel wraps, salad sandwiches piled high with delicious fresh vegetables, spag bol… she set such a high precedent that I worry that I'll disappoint my future children! My own mother set the lunch bar so high that it makes me evaluate my work lunch choices much more harshly than most.
"A tin of tuna and corn?", I think to myself, "you can do better than that!"
"Leftover lasagne again?" come onnnnnn. It helps that everyone at my work is completely food obsessed; my favourite kind of people!
I'm vowing to myself that this year I will make my work lunch more interesting – starting with the snacks! And what better way to make things more appealing, than to pretend they're for play lunch! I've packed some little lunches that my younger self would have drooled over. I understand that not all 6 year olds love hummus, but little Gab loved food full stop. These veggie bites are suitable for big and little people alike – they're packed full of vegetables, taste delicious, and they're good for you!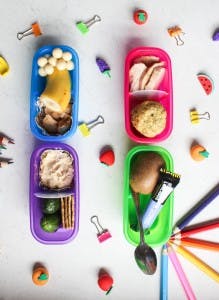 The little containers I used are perfect snacking size and you can squeeze a multitude of delicious things in there – the great thing is that you can switch each item out for a different one. Don't like bananas? Chuck a few strawberries in instead. Not keen on baby qukes? Substitute carrot sticks. The possibilities are endless, and all of these can be assembled the night before, ready to be thrown in a school/work bag the next morning.
School is going back shortly, and most people are already back at work – have a go at making these adaptable little lunches for you or your favourite little humans.
Healthy veggie bites
Makes 48
650g cauliflower
200g broccoli
2 small brown onions
4 eggs
2 tbsp Italian herbs
2 cups plain flour
1 cup self-raising flour
50g parmesan, grated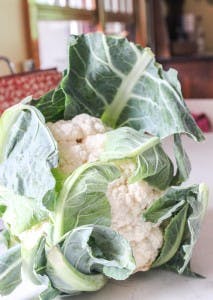 Step 1
Cut your cauliflower and broccoli into florets. Divide into 3-4 batches.
Step 2
Chop your onions into quarters and distribute them between each batch.
Step 3
Pop the batches of vegetables into your food processor, one at a time, and pulse them until they resemble a large grain. Repeat with each of the batches.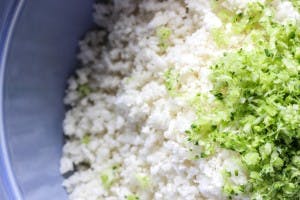 Step 4
Pour your whizzed vegetables into a large bowl and mix the eggs in, followed by both types of flour. It takes quite a strong arm to mix this, but make sure you mix it well so that all of the ingredients are well distributed.
Step 5
Grate your parmesan and mix it in well.
Step 6
Preheat your oven to 200°C and grab a large non-stick baking tray.
Step 7
Grab some olive oil and pour it directly onto one hand, then rub your hands together so that your palms have an oil coating. Use one hand to grab about a tablespoon of mixture and quickly shape it into a ball – you won't be able to roll it too much as it's a very sticky mixture.
Step 8
Plonk your shaped mixture on your baking tray and repeat until you've filled the tray. Ensure each dough ball is about 1cm away from it's partner, they will spread a little bit.
 Step 9
Pop them into the oven for 30-35 minutes (turning the fan on in the last ten minutes to encourage browning on the outside) and set on a cooling rack before eating.
They're delicious when they're still warm, but they're just as good cold the next day.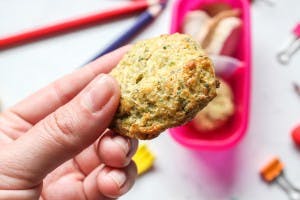 Four fun back to school lunch box ideas
Veggie bites box
4 veggie bites
Leftovers (I used poached chicken)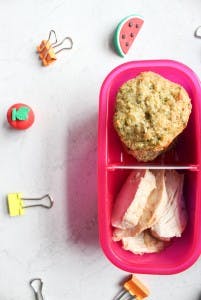 Hummus heaven
1.5 tbsp hummus
1 baby quke halved and then cut into batons
2 original vita wheats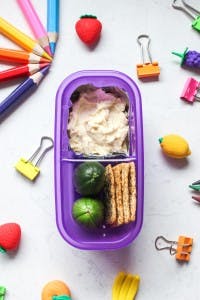 Tip: Line one side of your container with tin foil – it means less mess when it comes time to wash up.
Bananarama
4 tsp almond butter
1/2 banana
handful yoghurt covered berries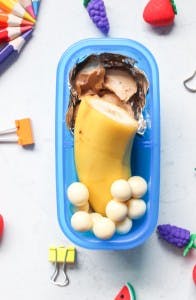 Tip: Wipe the end of your banana with lemon juice to stop it from going brown.
Speedy Snack Box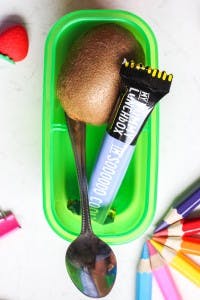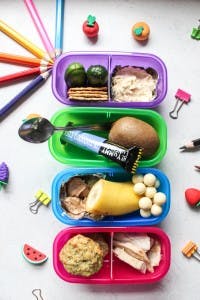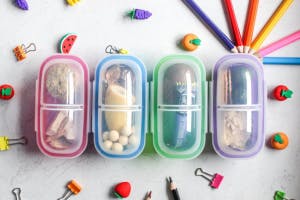 P.S if you're a stationery nerd like I am, all of the colourful little pieces in these photos are from The Reject Shop too!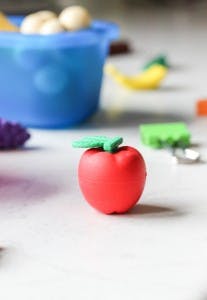 This post is sponsored by us. All images, opinions and words are from Baking with Gab. 
Find more delicious recipes on her blog here: http://bakingwithgab.com
** Snack containers or variations can be found in store.
Sign up to receive exclusive offers, VIP invites and all our hints & tips