Bring your home to life on a budget
We've teamed up with The Eye Spy Milk Bar who shows us how to bring your home to life on a budget using products from The Reject Shop.
I'm always on the lookout for affordable homewares and I firmly believe in bringing a space to life without having to spend a fortune. So I'm very excited to share some fabulous homewares from The Reject Shop. The great news for you is the affordable price tag of all of these goodies! I was blown away with their new range and I'm going to show you just how affordable and easy it is to create a beautiful space on a budget.
ROUND MIRRORS
First up is this divine mirror which only cost a total of $15! This is available in black, grey and white. I was torn between all of the colours but decided on white for a fresh look in our home (although for the price, and if you have the space, you really could afford to buy a few!). A round mirror is such a versatile piece that you can use in the hallway, above the bed or in the living room. I'm a big fan of an uneven gallery style wall and this mirror was a perfect choice to add here.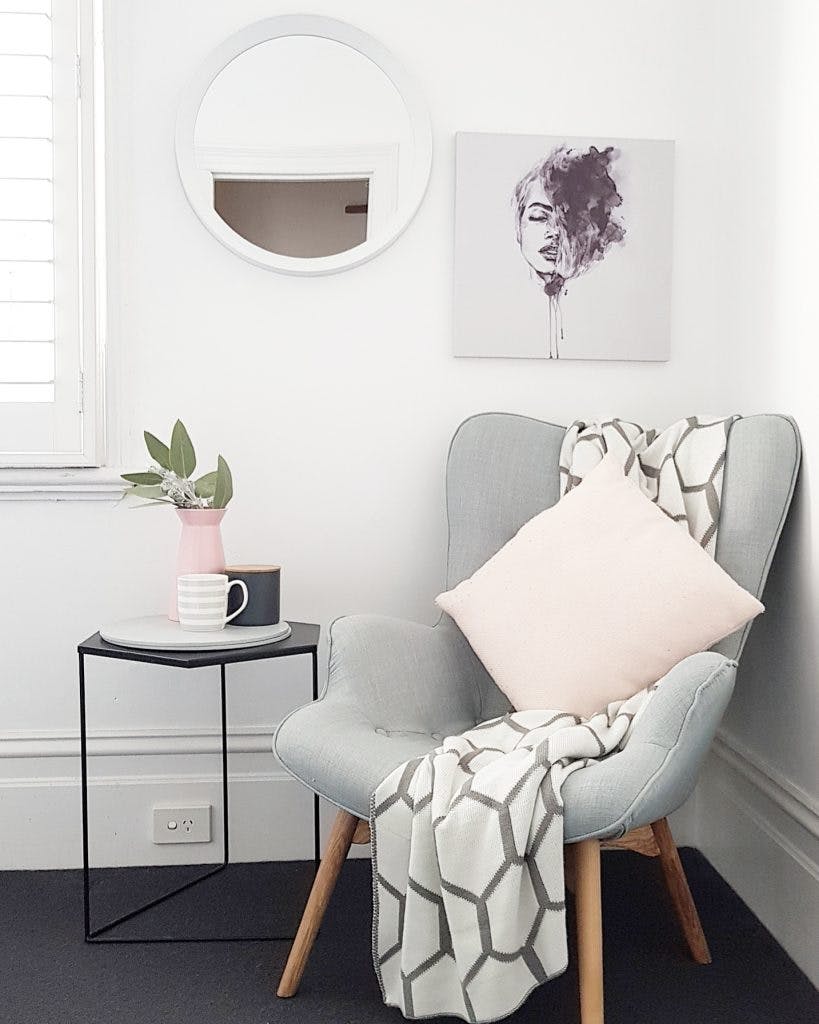 Round Mirror $15 / Canvas Print $10 / Mug $2 / Canister $5 / Vase $7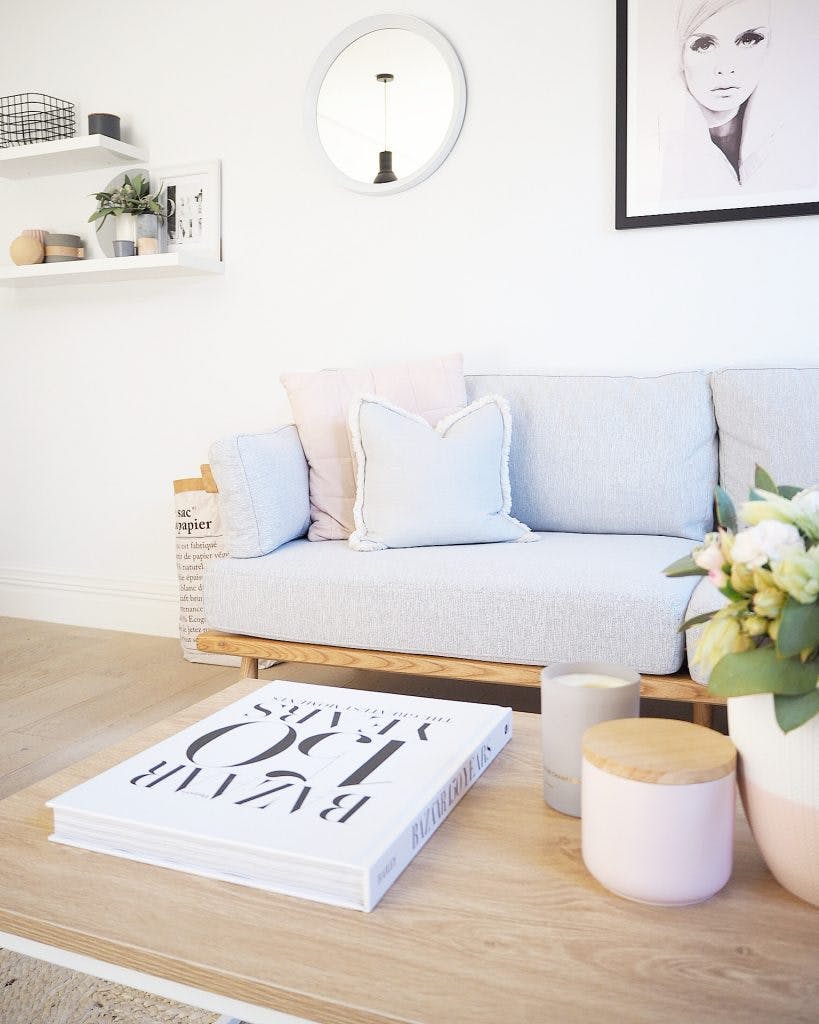 Round Mirror $15 / Black Memory Lane Certificate Frame $15
WOW FACTOR ARTWORK
Next on my shopping list was some artwork for the walls and I couldn't go past this amazing print for just $10! Black and white feminine prints are so easy to style and work really well against pastels. Artwork can be very expensive, so it pays to shop around and keep your eyes peeled for some affordable options like this one.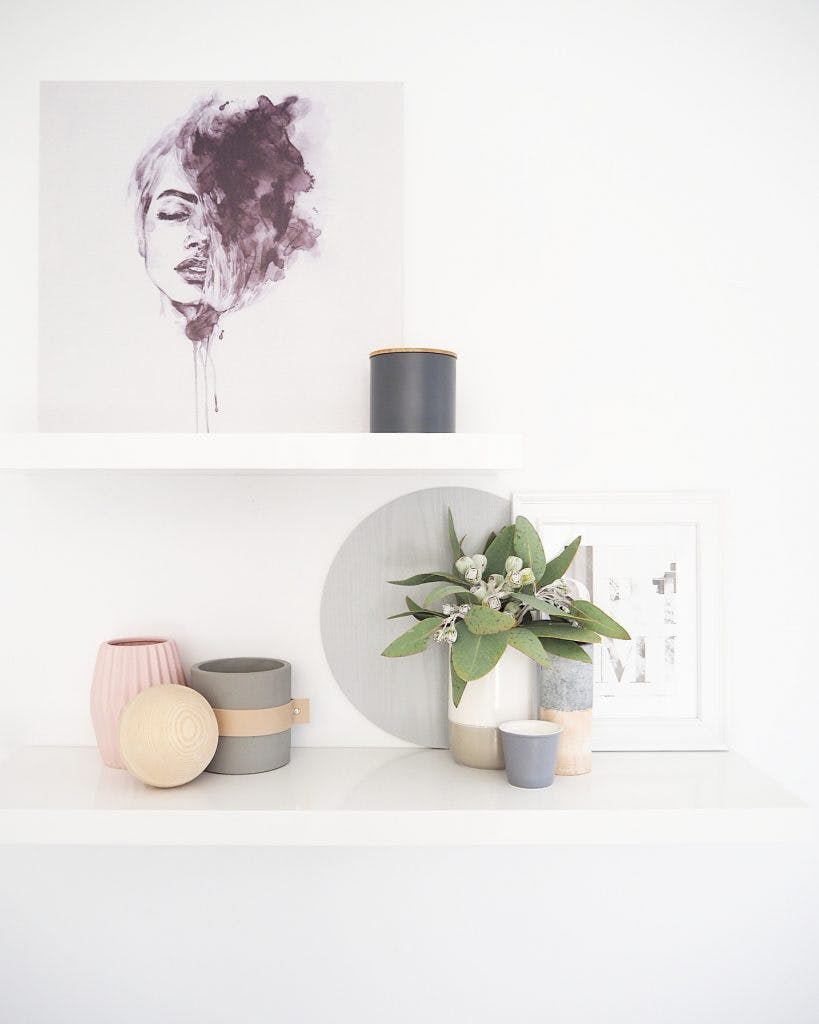 Canvas print $10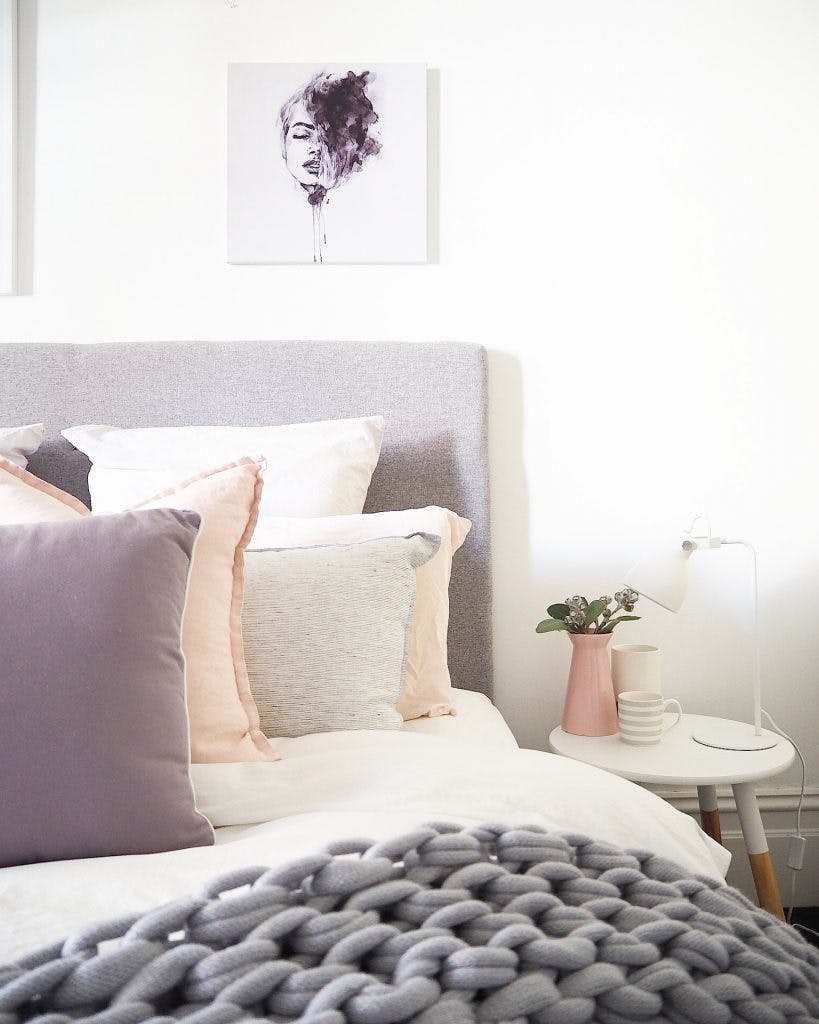 Printed Canvas $10 / Grey Cushion $5 / Vase $7 / Stripe mug $2
SHELF STYLING
It's no secret I love a good shelfie! Shelves are a perfect way to display all of the things you love in one place. I've outlined some tips on how to create the perfect shelf:
(1) Collect items that you love in a range of different shapes, sizes, colours and textures
(2) Bring together a combination of artwork, vases, canisters, teapots, coffee mugs, books, mirrors etc
(3) Decorate in odd numbers. For some reason I always lean towards grouping items in 3's or on their own
(4) Add some greenery with a plant or a vase full of beautiful blooms to help bring your shelf to life.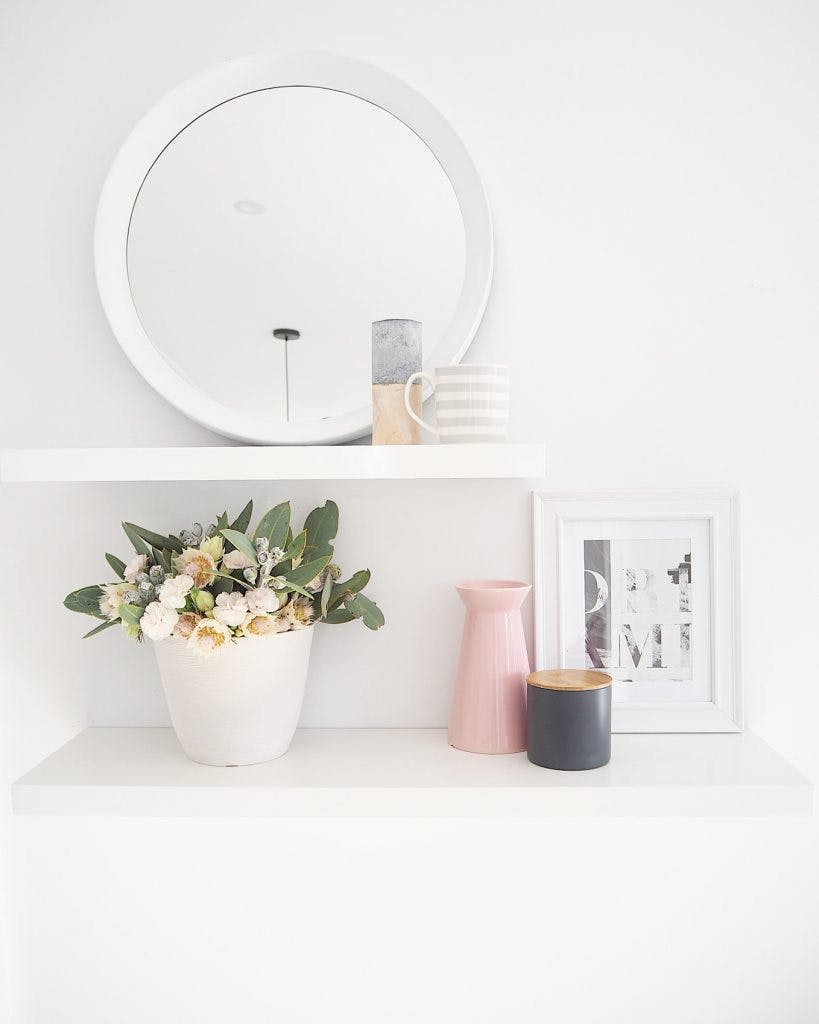 Here's some useful tips and tricks to styling your home on a budget:
1. Affordable Artwork
I found some lovely frames in-store so I picked up a gorgeous white one for only $7 and framed a page from one of my favourite magazines. So easy and such a great way to add some interest to your walls.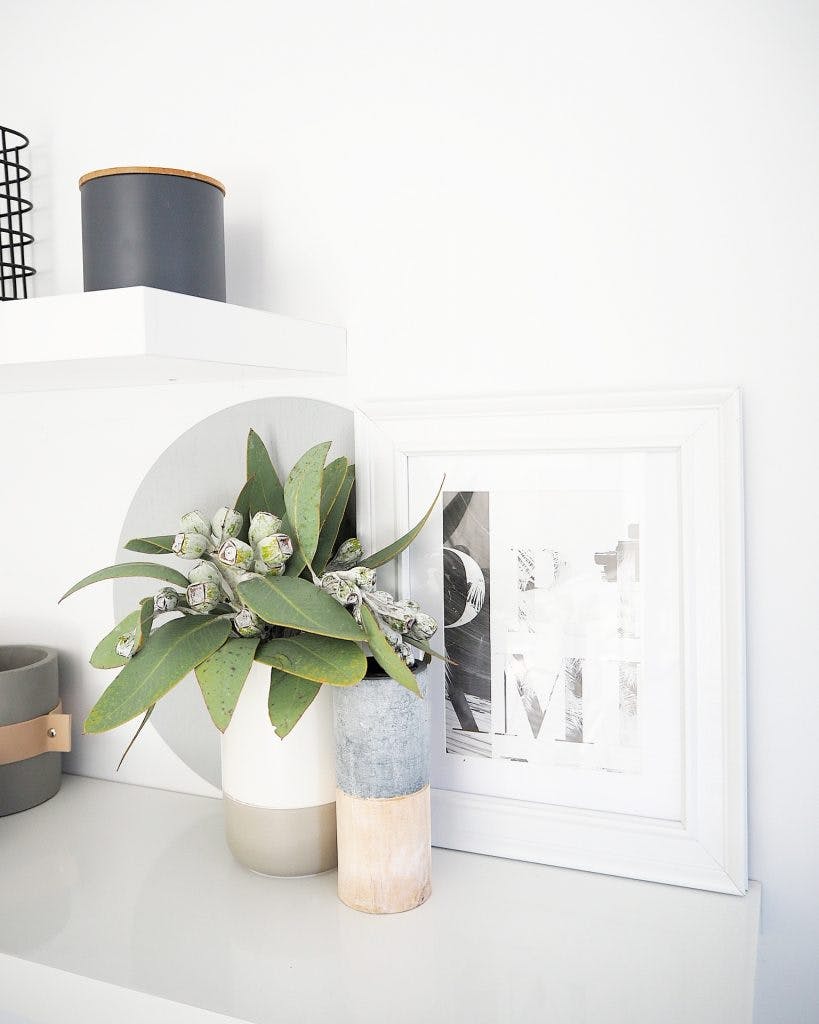 MLane Rebecca Frame $7 / Utensil Holder dipped $5 / Two tone tea light holder $2 / Black canister $5
2. Think outside the box when it comes to decorating your space
 Going through the kitchen section I came across so many fab utensil holders which make really cute vases.
Canisters are perfect for decorating shelves as well as sitting nice and pretty in the kitchen
I even picked up a tea light candle holder in grey and timber (see pictured above) which is the perfect addition to my shelf.
Another fab find was this super cute pot in the garden section (pictured below) which I picked up for $5 and filled it with my favourite blooms.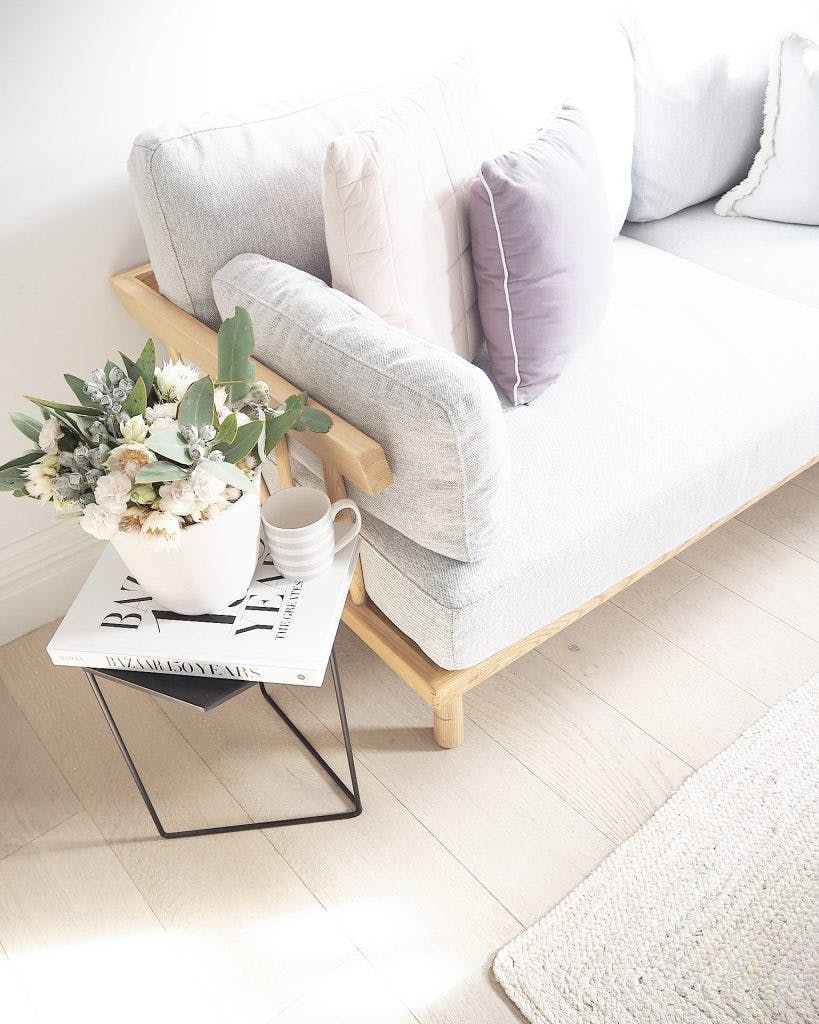 Grey Cushion with piping $5 / Stripe Coffee Mug $2 / Flower Pot $5
3. Hunt around for bargains
My biggest tip is to hunt around, do your research and look where you might not necessarily consider for what you need. I picked up this grey cushion (pictured above) which was an absolute bargain at $5 and the stripe coffee mug was only $2.
So as you can see from The Eye Spy Milk Bar's helpful styling tips, creating a beautiful space on a budget is certainly achievable.
You can view some of our range online HERE along with some more finds in store! X
Show us how you style your home on a budget on Instagram/ Facebook! #getsavvy
This blog is sponsored by The Reject Shop. All words, opinions, ideas and images are from The Eye Spy Milk Bar.