I'm always on the hunt for affordable ways to decorate and when it comes to kids rooms, thinking outside the box and getting creative can definitely save you money. I popped into The Reject Shop the other day and was rather impressed by the new homewares on offer, not to mention the affordable price tags! If you love a bargain and decorating your home on a budget as much as I do, then this is one shop you need to visit! I've decided to share some ideas on how to decorate a kids room, without spending a fortune.
I came across this white side table and knew it would be a perfect fit for a kids room. Whilst looking good, it can easily store lots of bits and pieces without it looking messy (a must in a kids room)! When the time comes, you can easily move this into the living room or another bedroom, making it a hugely versatile piece for the home.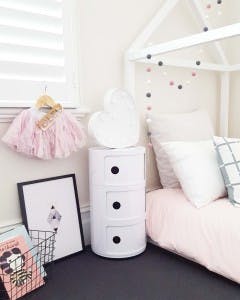 I was hanging out in the party section (which by the way is amazing!) when I stumbled across these divine balloon paper lanterns and decided they'd be perfect for decorating a kids room. They come in a range of different colours and are so affordable at $2 each!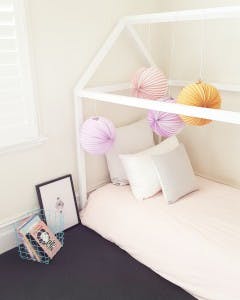 One of my biggest decorating issues is storage space! Add 2 kids into the mix and we now have zero storage space! With cupboards full and almost overflowing at our house, baskets are the perfect option for storing kids toys and books on display. These colourful wire baskets are a winner at $8 each!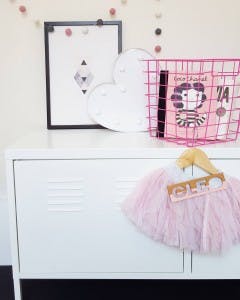 I couldn't go past this divine heart light for $12! It works as the perfect decorative piece in a kids room and has the added bonus of being used as a light at night. I've also built up quite the collection of wall prints lately, but when they're $12 each, it would be crazy not to snap up a few!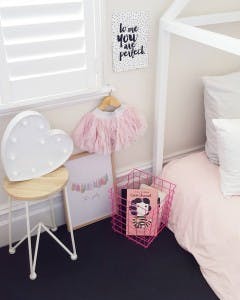 A throw can instantly update a bed and this textured aqua throw for $15 is a great way to add a little splash of colour to the room.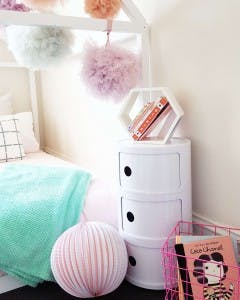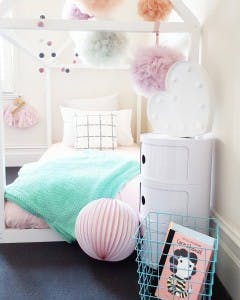 I hope I've inspired you to create a super cute space for your little ones and saved you a few dollars along the way.
Happy Shopping x
This post is sponsored by us. All images, opinions and words are Katy from The Eye Spy Milk Bar
For more inspiring posts, check out her blog: http://theeyespymilkbar.com/
All products or variations featured are in store.