Easy snacking ideas for your kids these school holidays
School holidays are here! Two weeks of excited kids playing and spending time with their friends, getting into mischief as only kids can. The Reject Shop has some great healthy snack ideas to keep young minds and bodies active and creative. Low-cost healthy snacks, great craft ideas, all doable on a budget. Our full range of groceries can be found here.

You read that correctly, mug cake, not mud cake.  This is a great little treat for kids, and they can cook themselves, in a mug.  The Reject Shop has a great range of mugs for you to cook with. Check out the colours of our bullet mugs for just $1.
You can find a print off Mug Cake recipe here.

The next easy and healthy snack we have for you is our 5-ingredient muesli bar. The kids can get involved in making this too. Have them take a pack of muesli bars to their friend's house as well. The Reject Shop does have some airtight containers to carry food around in. Hopefully, most of them make the trip. They are quite tasty.
What's also pretty cool about this recipe is how you can mix it up. You can add ingredients such as dried fruits and nuts, choc chips if you like. You can roast the oats and almonds as well.
Follow the 5 Ingredient Muesli Bars link, grab the recipe and get cracking.
When you want to measure the perfect sized muesli bar, don't be afraid to get out a ruler. You can grab a Noteworks plastic ruler from in store for just 50c.
You can find a print off homemade muesli bar recipe here.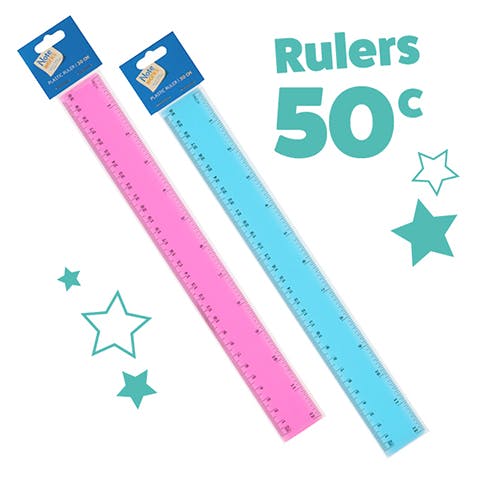 ANTS ON A LOG
An easy and fun snack idea is a little treat we call- Ants on a Log.
The "log" is usually a stick of celery cut into easy to handle pieces. You can use carrots cut in half, even a banana if you want a sweeter log.
Cover the "log" with your favourite dip.
The "ants" are what you put on top.
You can have sultanas as a little train of ants.
Other dried fruits, such as apricots or apple.
Cherry tomatoes.
Grapes or blueberries
Nuts or seeds.Simple to make and utterly delicious.

KITCHEN SUPPLIES
The Reject Shop has a mind-blowing amount of kitchen tools and supplies and other stuff to help you whip up a treat.
Grab a non-slip mixing bowl for just $7, and a Silicone head Spatula to mix in the bowl for just $2.
How do you know how much mixing ingredients you need? With a 600ml measuring jug for $2, or a set of measuring cups for $3?
You could help your kids make cupcakes with this 75 pack of cupcake cases, $2. How about baking a cake?Grab a 22cm springform cake tin for just $5.
The best way to make sure you have the perfect amount of cupcake mix per cupcake? Ice cream scoop, $3. You see the professionals on TV use them all the time.
We also have Hercules brand baking paper, aluminium foil and cling wrap.
Store leftover cake batter, if you have any after the kids have licked the beaters, in some sandwich bags - $2 for a pack of 40!
Pack the snacks into a takeaway container so they survive the journey to their friend's house. Grab a pack of 25 containers for just $9There are so many ways to entertain your kids these holidays. Cooking is great fun. Being able to say- I made this! Awesome stuff. When your kids want to do more than cook and make snacks, bring them into The Reject Store and discover many things to keep them entertained.
ART AND CRAFT SUPPLIES
Are they into drawing or painting? We have a range of paints and pencils, canvases and visual diaries.
14 pack of acrylic paints for $5
Wide range of 125mL tubes of paint for $2.50 each
24 pack of pencils for $4
Pro Paint single canvas for $9
3 pack of canvases for $10
A5 Visual Diary for $2
A3 Visual Diary for $8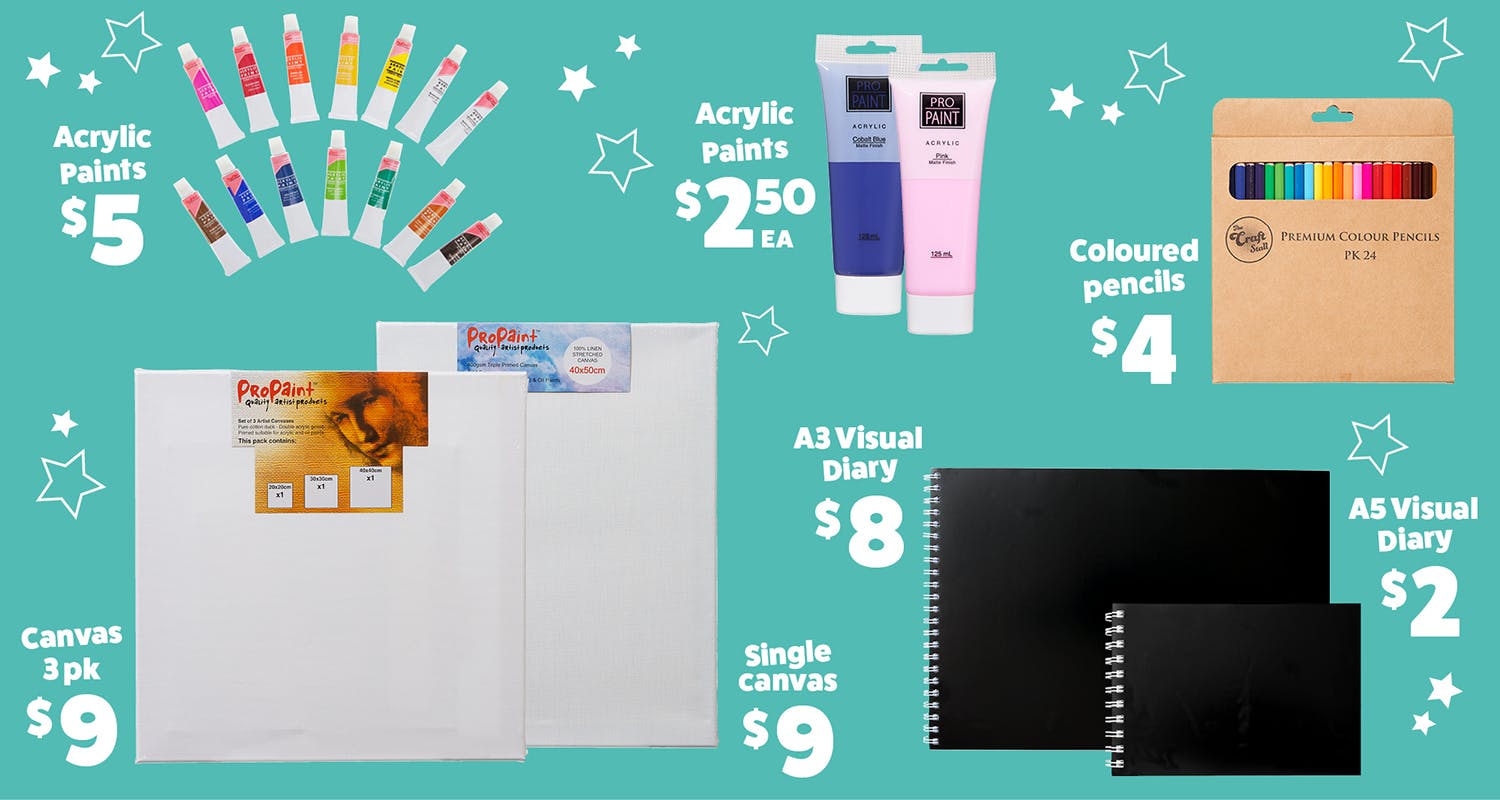 We have craft glue, scissors, coloured card and paper. There is so much to find in our stores to entertain your kids these school holidays, and that is before they run down the toy aisle and discover so many great things to play with.
Find your nearest store and come on down to discover a whole holiday's worth of entertainment for your kids and their friends.