It's that time of year when a lot of us tend to spend a rather long time sitting at our desks. Well, now is the perfect time to freshen up your workspace and actually enjoy the space again. You are just four simple steps away to an organised desk and, subsequently, a less stressed you...
1. Out with the old
There's a strong chance that there's a lot within that big pile of paperwork sitting on your desk (which you choose to ignore everyday) that's not even relevant, important or necessary anymore. It's time to get rid of excess paper work once and for all. Go through it, and clear out what you do not require anymore. Put aside what you may need to file away and leave out what you are currently working on. That easy!
2. In with the new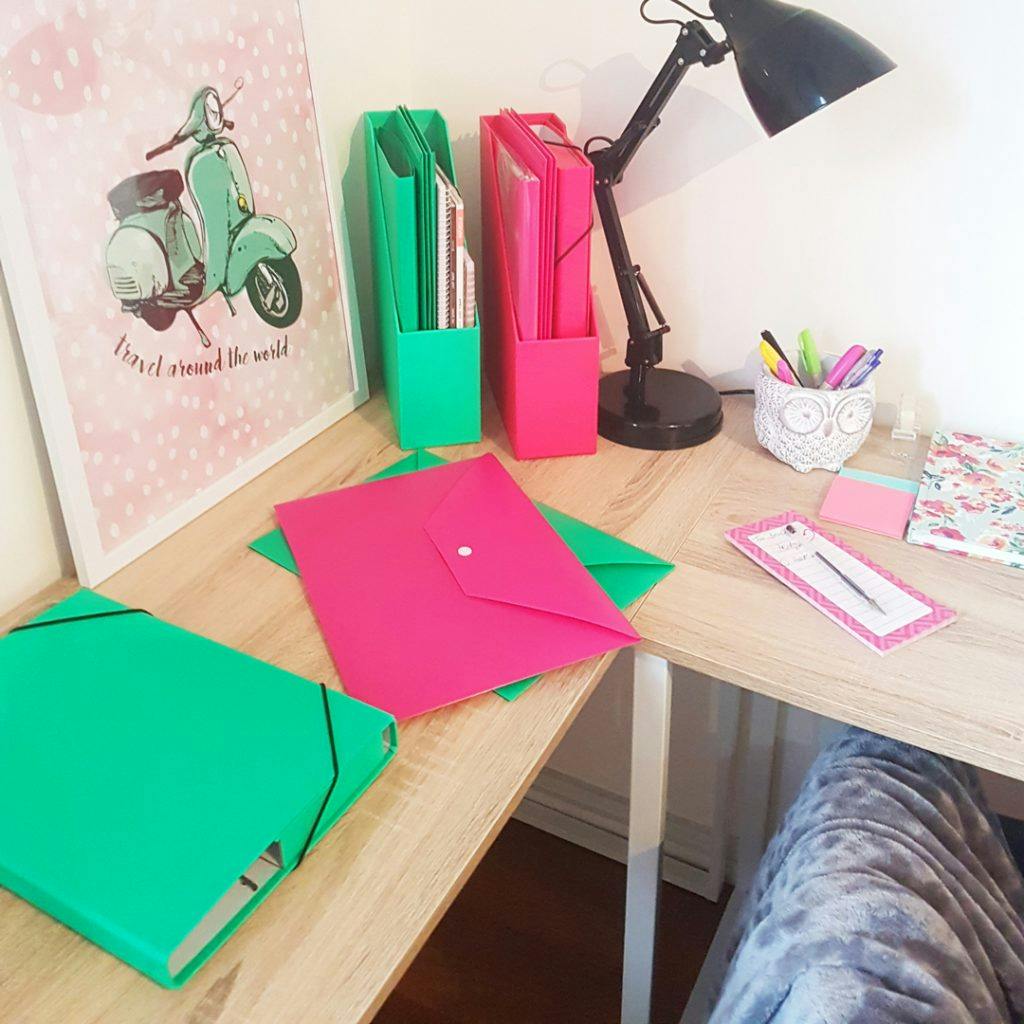 Now you've done the hard work, you can treat yourself to some pretty new stationery. If you're going to the effort of finally getting your desk organised, we strongly believe that you should do it in style. Here's a list of what every (organised) desk needs:
To do list
At the end of every week, write your to-do list for the following week so when Monday comes around, you'll feel somewhat organised for the week ahead.
Daily Planner
This is where you break down your weekly to-do list and prioritise it into your days and times if need be.
Diary
This is your important diary that you take with you to all of your meetings.
Ideas Journal
Inspiration can strike when you least expect it, so it's always a great idea to have a dedicated journal to compile all of those genius ideas that run through your head. Jot it down in here, carry on with what you were doing and you'll know exactly where to find it when you're ready.
'Just In case' notepad
Just in case you leave your important diary with all of your notes in a meeting, or you have left your briefcase in the car that your partner has taken for the day - do you see just how necessary this extra notepad is? We thought so.
Adhesive notes ('Sticky' notes)
For when you get that phone call and need to jot down a number, or a reminder for yourself quickly, it's always good to have some adhesive notes at arms reach so you don't have to ruin your perfectly organised journals. Grab the colourful ones too and let them stand out loud and proud - their purpose is to remind you after all.
Cork board and/or Vision board
Ideally you will have two of these. One to pop your reminder notes up on and another for inspiration where you can pin photos, quotes, affirmations on to keep you motivated.
Pens and Highlighters
 


You can never have enough pens and highlighters - and in all the colours of the rainbow (just because!). Get in the habit of keeping these in the one spot in a pen holder (or a cement plant pot in our case above) and at arms reach as you'll be surprised how they tend to just miracolously disappear otherwise.
Folders and files

If your space is a creative environment, we prefer to opt for brighter colours. However, if it is a more calming space, then pastel/ neutral colours are a good option too.
3. Set up your filing system
Now that you've got all the essential stationery you require, it's time to get organised - FOR REAL!
Take your folders,  label them accordingly and put your related items in to each. We like to double up using two different colours. One colour to hold magazines, notepads, books, etc. and the other  mainly for filing papers. You can organise it in a way that's best for you.
Keep working files at easy reach in one dedicated folder, tray or box. Only have out on your desk what you need and everything else can be away. Your desk should be an efficient space!
4. Decorate your area to inspire
The fun part! It's your working space so tailor it to you, your favourite colours and your comfort. You will probably spend a lot of time here so decorate the area with things that inspire you.
Framed posters - you can easily switch these up every once and a while. We chose two - an inspirational poster and also a travel poster to remind us what we have to look forward to and motivate us!
Plants or Flowers - whether you have a green thumb or not, some greenery/ plants/ flowers, artificial or not,  are always a lovely addition to the area and create a sense of calm.
A photo of your family/ friends or someone who inspires you that you can pin on your inspiration board or pop into a nice frame if you have the space on your desk.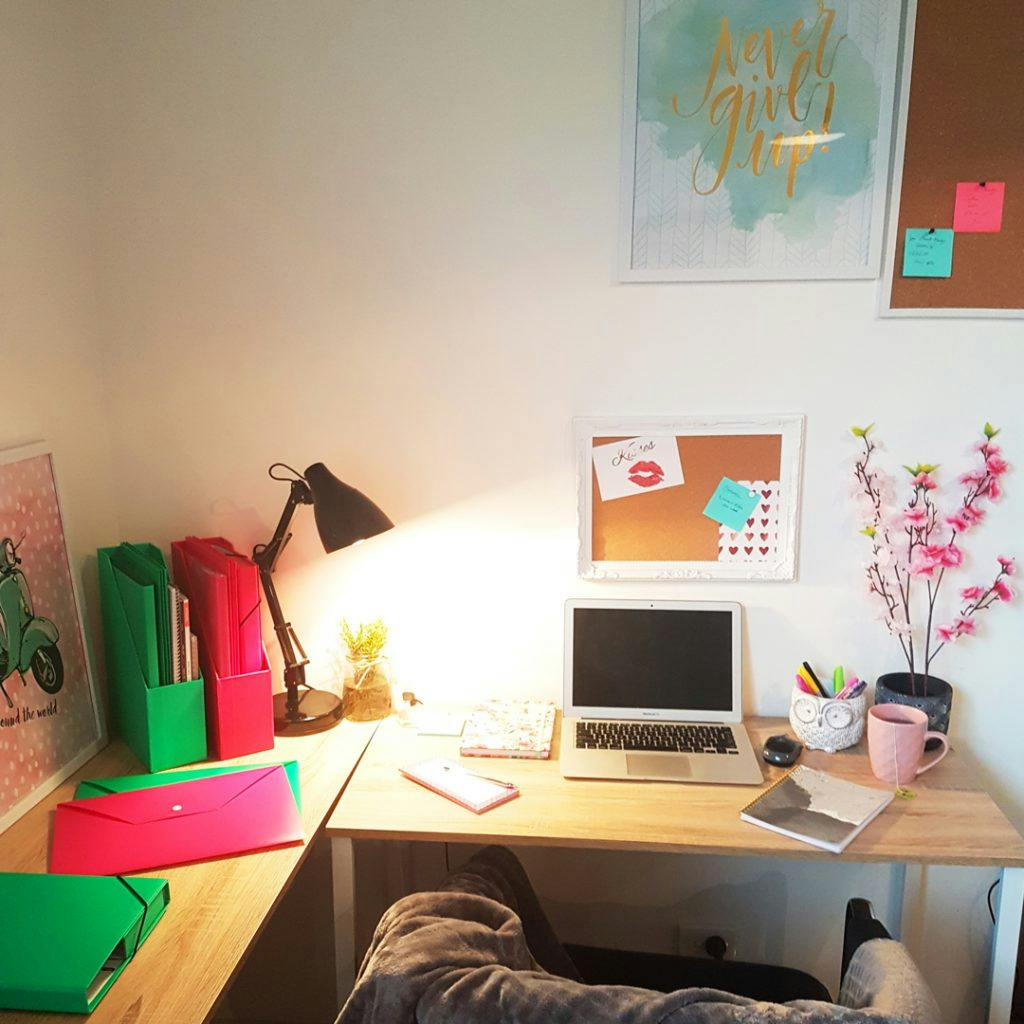 There you go, you're all set up. It feels good doesn't it? We'd love to see how your desk turned out - tag us on Facebook or Instagram!
Also if we've missed anything, let us know your desk organisation tips below...
You can get all of the products mentioned above at your nearest The Reject Shop store or browse our website to see more.
Happy organising!