Party, Guides, Kids
One Party In a Box, Two Different Themes
Looking to create a stunning party on a budget? Look no further than The Reject Shop for the ultimate in savvy saving's for the latest in party supplies. The Reject Shop party kit in a box has everything you need to throw a party on a budget for 8 guests including, invitations, envelopes, dessert table labels, cupcake wrappers, cupcake toppers, straws, straw flags, bottle labels, bunting, gift bags, gift bag labels, pegs and 4 pinwheel decorations. To show how versatile this party kit can be I have planned one adult and one children's party on a budget both coming to a total cost of under $80 each.
Wild One Safari Party
Go wild with this black, white and gold Safari themed party on a budget for under $80 perfect for a first birthday celebration.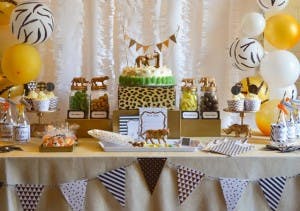 All items that are available from the Reject shop displayed in this party are the Party In A Box, balloons, animal figures, confectionery, glass mason jars, cake, cupcakes, cake bunting, cake candle, mini cake boards, boxes, bottles and serving trays.
Items of my own used - table cover, gold spray paint and crepe paper backdrop and a few craft items.
DIY Safari Party Ideas
Animal Cupcake Stands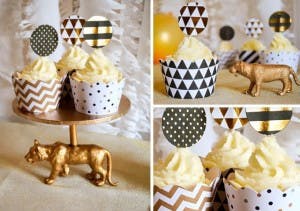 Fun and easy to make using a bit of creativity are the striking gold animal mini cupcake stands. I sprayed my animals  ($1.5o each) in gold spray paint as well as the mini cake trays that I found in the bargain corner of The Reject Shop for only  $1.50 for 2. I then drilled holes into the animals and inserted a bit of dowel attached to a rubber stopper and super glued it all together. I finished it off with some more paint to complete two stands that came in at a total of around $2.50 each.
Animal Candy Jars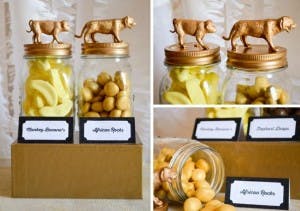 The Reject Shop have a wide range of bargain jars that can be used for a candy buffet. I purchased a pack of 4  jars for only $5. I also purchased a packet of wild animal figurines for $2. I sprayed the lids of the glass jars and animals gold, then super glued the animals to the tops of the jars. My four themed candy jars came in at $1.75 each not including the spray paint. I dressed the labels up that are included in the Party In A Box by printing out my text and gluing it onto the labels.
Themed candy & gift bags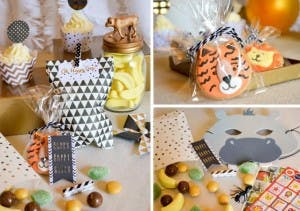 Think a little outside the box and search for candy that will suit your party theme. The Reject Shop has a large selection of lollies and candies available. I ended up deciding on Monkey Banana's , Rhino green leaves, Gold rocks, Chocolate malt balls and snakes to attach to my drink bottles. A very savvy saving for only $2 a packet each.
Its super easy to find some great party favours in The Reject Shop also to suit your party theme. Included in my Favour bags were Safari Stickers $2 for a book, these can be divided. Critters $2 per bag and Safari themed cookies $1.50 for a box of four. You can also find an assortment of extra favours such as the themed safari mask I have used in the above image.
Themed Wild One Cake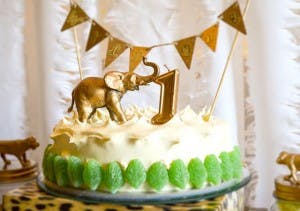 I was impressed to find a Betty Crocker $2 cake mix at The Reject Shop which i added to my budget. What's a party without cake!  Once decorated with some vanilla icing I topped it with a DIY cake topper. In the craft section of The Reject Shop you will find an array of craft ideas. I used a wooden bunting flag that I sprayed gold, then added stickers to. I then also added another animal figurine and transformed my party candle completely out of the ordinary by also spraying it gold. My total cost was around $9.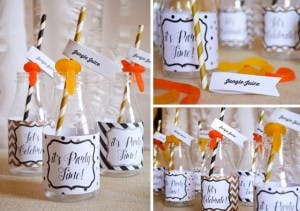 Backdrop and Risers
For only $2 a pack I purchased the balloons. I then drew Zebra and tiger prints on the balloons with a black marker to match the Safari theme. To add to the budget I hung the balloons on my backdrop instead of using helium balloons. I also used crepe paper to create a paper fringed garland. The Reject Shop have a fabulous range of gift boxes available that can not only be used for gifts but also used as risers for your dessert table. Instead of using a cake stand I decided to elevate my cake on top of a gold gift box and tissues boxes which tied in with my theme. I also used smaller boxes to elevate my themed candy jars. The lids from the boxes also come in handy to use as serving trays.
Glam Black, White & Gold Party
For a bold and striking glamorous adult party, The Reject Shop's Party In A Box has it covered. It's so versatile it can be used to celebrate many gender neutral occasions such as a 16th, 18th, 21st or even a 40th birthday. The total budget for this party came in at under $80.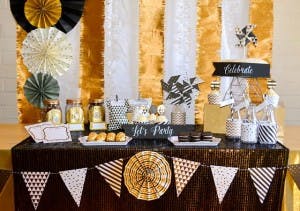 Items used from The Reject Shop for this party are the paper fans and signs, serving trays, gold basket and mirrored glass candle holder used as a cake stand, gold box, bottles, cake, cupcake, Ferrero Rocher's, Oreo's, confectionery and Party In A Box.
Own items used - table cover, crepe paper.
DIY Glam Party Ideas
Take The Cake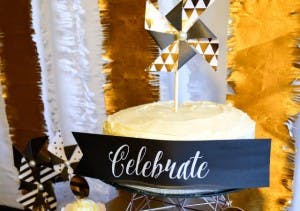 Party cakes tend to always have a way of being quite an expensive part of your party budget. Sometimes simplicity can be the key to success. I have used a $2 cake mix which I purchased from The Reject Shop and glammed it up using the pinwheel from the Party In A Box as the cake topper. I also added a bit of party cheer by using the sign from the paper fan pack.
Cake Stand
If you don't have your own cake stand at home and want to make your own to save a bit of money then you can easily find items from The Reject Shop. I used a wire gold basket I purchased for $5 and a mirrored candle holder $5. Total Cost $10.
DIY Glam Candy Jars
Glam your candy jars up with some gold spray paint, gold paper doilies and bows. The labels that are included in the Party In A Box add add instant wow factor with plenty of space to write your own or alternatively glue perfect text to them.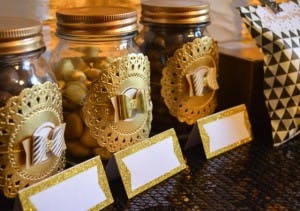 Favour Bags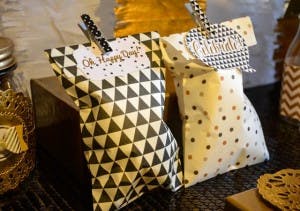 Fill these gorgeous favour bags that are included in the Party In A Box with a wide selection of lollies available from The Reject Shop starting at $2 a bag.
Desserts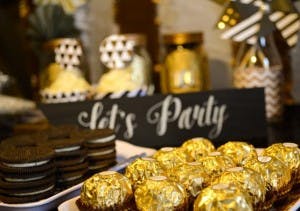 Who doesn't love Oreo's and Fererro Rochers? They both came in at a total of $10. These were perfectly displayed on the table with white melamine serving trays from The Reject Shop for only $2 each.
 Backdrop and decorations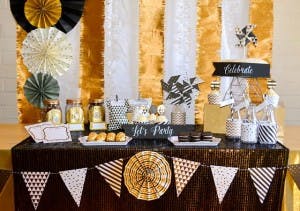 I found some gorgeous paper fans and signs for $8 that co-ordinated perfectly with the Party In A Box to decorate my backdrop as well as place around the dessert table. I also used some crepe paper for a paper fringed garland to decorate the backdrop and tie it all in. The pinwheels add such a fun and decorative touch displayed in a bottle and as a cake topper.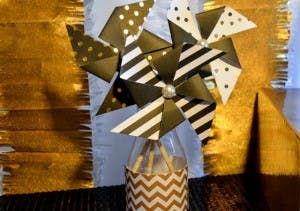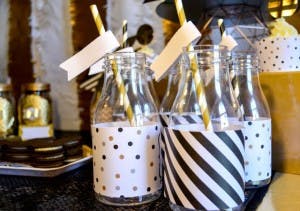 The bottle labels, straws and flags included in the Party In Box add time saving touches to decorate drinking bottles.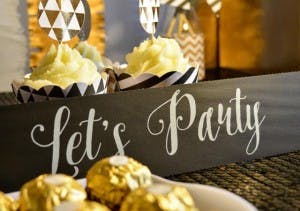 Its now time to party! To find all these amazing Savvy party find's be sure to visit The Reject Shop.
This post is sponsored by us. All Images are by Creative By JAM http://www.creativebyjam.com.au, opinions and styling are by Michelle from Little Wish Parties
For more party ideas, check out her website here: www.littlewishparties.com
The Party In A Box ($15) is available in stores, but while stocks last.
Sign up to receive exclusive offers, VIP invites and all our hints & tips