One of your besties is having a baby and you've decided to take on the very important job of planning the baby shower.
Of course when you first offered, it all seemed like a wonderfully generous act but now she's actually well pregnant, all swollen feet and preggie pants and you need to actually start sorting out this shindig. Have we lost you yet? No need to wipe the sweat from your forehead, we have great tips that will make you the next babyplanner.com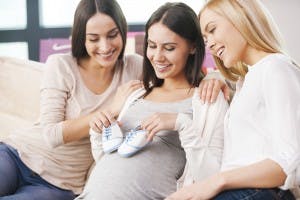 Set the date
Working back from the due date, we recommend the baby shower should be around 32 weeks. Basically in the beginning of the 3rd trimester is a good rule to go by.
Location, location
Pick someone's house that is party friendly (read: big) and definitely not at the mother-to-be's house. Making her clean up after her own party is a bit cruel. She'll have plenty of that coming her way soon enough ;)
Decide on a theme and send invites
Themes can range from the simple, ie blue/pink/pattern all the way to more complex ones like jungle, day at the fair, circus etc.
Tip: keep it simple to avoid going mad.
Once you have decided on the theme, send out the invites.
You can either go all DIY and make them by hand with little scrapbook pieces or find a pre made designs in store.
Tip: Before any invitations are sent out, run the guest list by the mother-to-be. You don't want to leave anyone out or cause a political showdown.
Decorate the space
The theme you choose should be reflected in the party décor, i.e. garlands*, balloons*, lanterns*, streamers* and tableware* etc.
Give yourself enough time to buy/make all decorations and then recruit some friends to help you set up.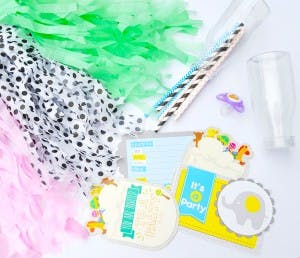 Feed the masses
Again, this one has some dependency on the theme, but either way make sure there is a lot of it. No need to get all Heston here with crazy foods, just keep it simple with a great selection of finger food, and sweet treats like frosted cup cakes so your guests can still enjoy the chit chat without a mouthful. When in doubt, outsource to a local café.
In keeping with the event, make a punch or smoothie and have straws in milk bottles* pre filled, making it accessible and fun for your guests. You could also have a glass dispenser* filled with punch or water with cups placed next to them so guests can help themselves.
Entertainment
So they're all fed and looking a bit restless, time for games!
These don't need to be totally cheesy, just fun and a bit of a laugh:
Don't Say Baby
Mum's the word when it comes to saying 'baby'! Get this great icebreaker started the moment your guests walk through the door. As you greet each guest, give each a nappy pin to wear on her shirt. Once all of your guests have arrived, tell everyone that they can't say 'baby' for the duration of the shower (or until it's time to open presents). If anyone hears someone else saying the forbidden word, she can steal the rule breaker's pin. At the end of the game, the person with the most pins wins a gift.
Play-Doh Babies
Give the guests some play-doh and have them sculpt a baby to the best (or worst) of their ability.  Set a time for them to complete the task and the mum-to-be can judge accordingly. Warning: It may be hard to hold back the laughter with this one.
Baby Shower Onesies
Get crafty at the baby shower with this great practical idea. Buy enough onesies (multiple sizes) to give one to each guest. Stretch each across a piece of cardboard and pass them out at the shower along with fabric paint* and miscellaneous baby-safe decorative elements*. Then, invite everyone to get creative by painting a onesie masterpiece designed specifically for the little one. Once dry, the future parents will have practical works of art to cherish and dress the baby in. Adorbs!
Scrapbooking
In keeping with the arty theme, provide scrapbooking supplies to each guest and have them make a page for the baby's scrapbook. This could be their favorite memory of their mum, wishes and dreams for the new life ahead or even a collage of meaningful pics.
This will definitely be a wonderful gift for both mum and bub to cherish. Aww bless.
Baby name
This game is quite strategic if the parents need assistance with names (or it may even prompt them to change their mind on a predetermined one.) Pass around paper and pen and ask each person to write down a girl and/or boy name and put them in a box. This will be great to open when the partner is massaging mum to be's feet after this day.
Party Favours
Give guests something to remember the event by, even if it's in the form of game prizes or parting gifts. It can be as small as a cookie or even a candle. It is just showing appreciation for sharing this memorable day.
* All products or variations featured can be found in store.
Have baby games you think guests would love? Share with us below.