Christmas, Gift Ideas, Pets
Top 5 items under $5 to gift your dog this Christmas
The Terrible Two, Eddy and Sam, are back - and sporting our festive pet range, looking merrier than ever! ? ? Below, we find out how to gift your fur-babies over the festive season. As dedicated parents, I'm sure we spoil our fur-babies all year round. There are so many different ways in which we can spoil our pets without having to use money. From belly rubs, to scratches behind the ear, or even just quality one-on-one time…the different methods in which we can use to show our pets just how much we love them is literally endless. However, during special occasions, such as birthdays and "gotcha days", there's no doubt that we want to do something extra special. With the festive season just round the corner, purchasing some tangible symbols of our love are not a bad idea at all hey? Here is a list of our top 5 picks of Christmas themed items from The Reject Shop, all for $5 or less:
Full costumes

[caption id="attachment_3281" align="aligncenter" width="1024"] Eddy the Reindeer and Sam the Elf - Costumes $5 each[/caption]
Special occasions are something we want to remember for a long time to come - which is why we take so many photos, to cement these precious memories in something tangible. Why not make the photo and the memories extra special, and dress your pets up for the occasion? For just $5, you can dress Fido up as a reindeer, an elf, or even as "Santa Paws" himself! These costumes come in three sizes, with a matching hat, to suit most breeds and sizes - they're simply too cute to resist. Pictured is Eddy as a reindeer, and Sam as an elf. There's nothing like a good costume to kick start the festive season!
Costume accessories
Okay, so we understand that it can get pretty hot during Christmas, seeing as it's summer. Full costumes might not be ideal when, for example, you'll be out for the whole day. The heat that comes with wearing full costumes may also be harder on certain breeds of dogs, such as ones with double coats. Don't worry, this doesn't mean that your pet has to look boring for Christmas - because The Reject Shop has costume accessories too! In addition to being more comfortable in the summer heat, costume accessories may also suit breeds of dogs who may either be too big or too small for full costumes. Costume accessories, priced around $3-$4, can generally fit a much wider range of dogs of different sizes and breeds, which means that no doggo has to miss out on dressing up!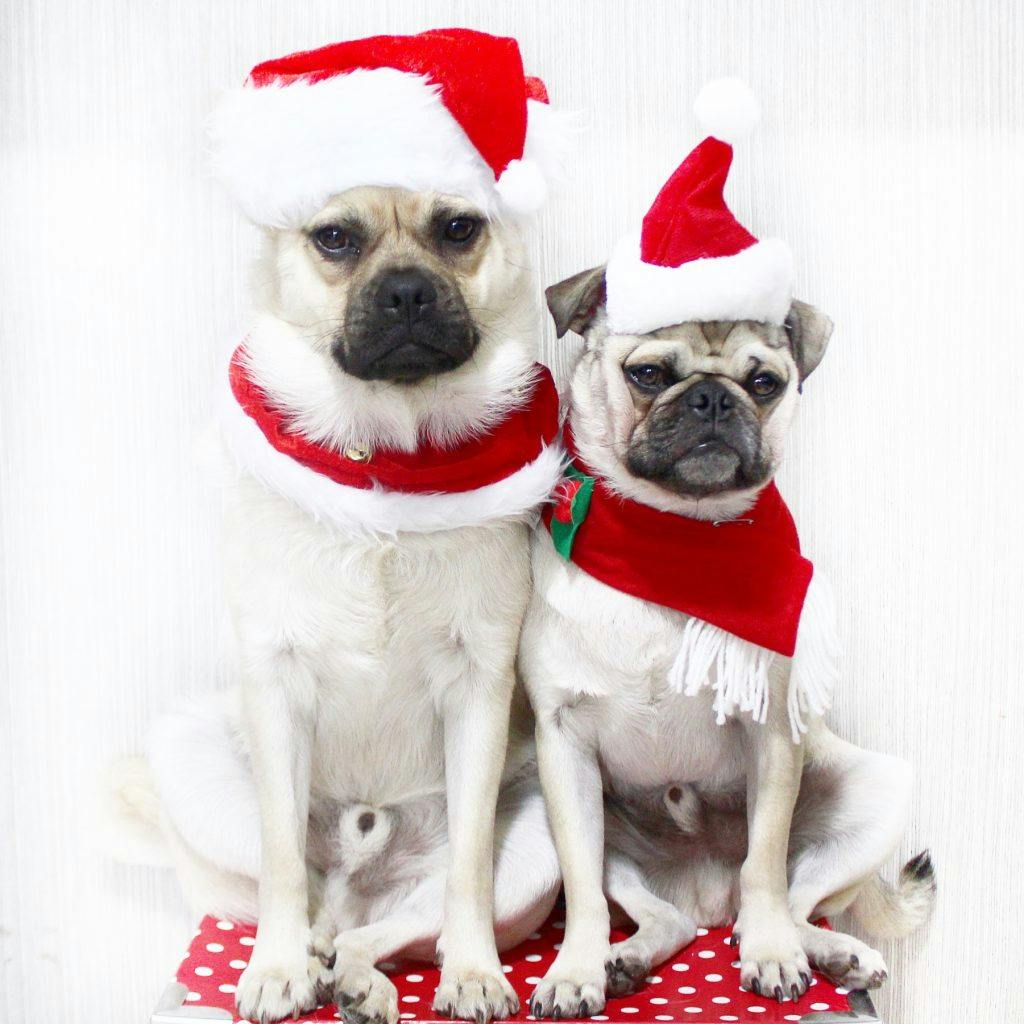 [caption id="attachment_3282" align="aligncenter" width="1024"] Christmas Pet Accessories from $3[/caption]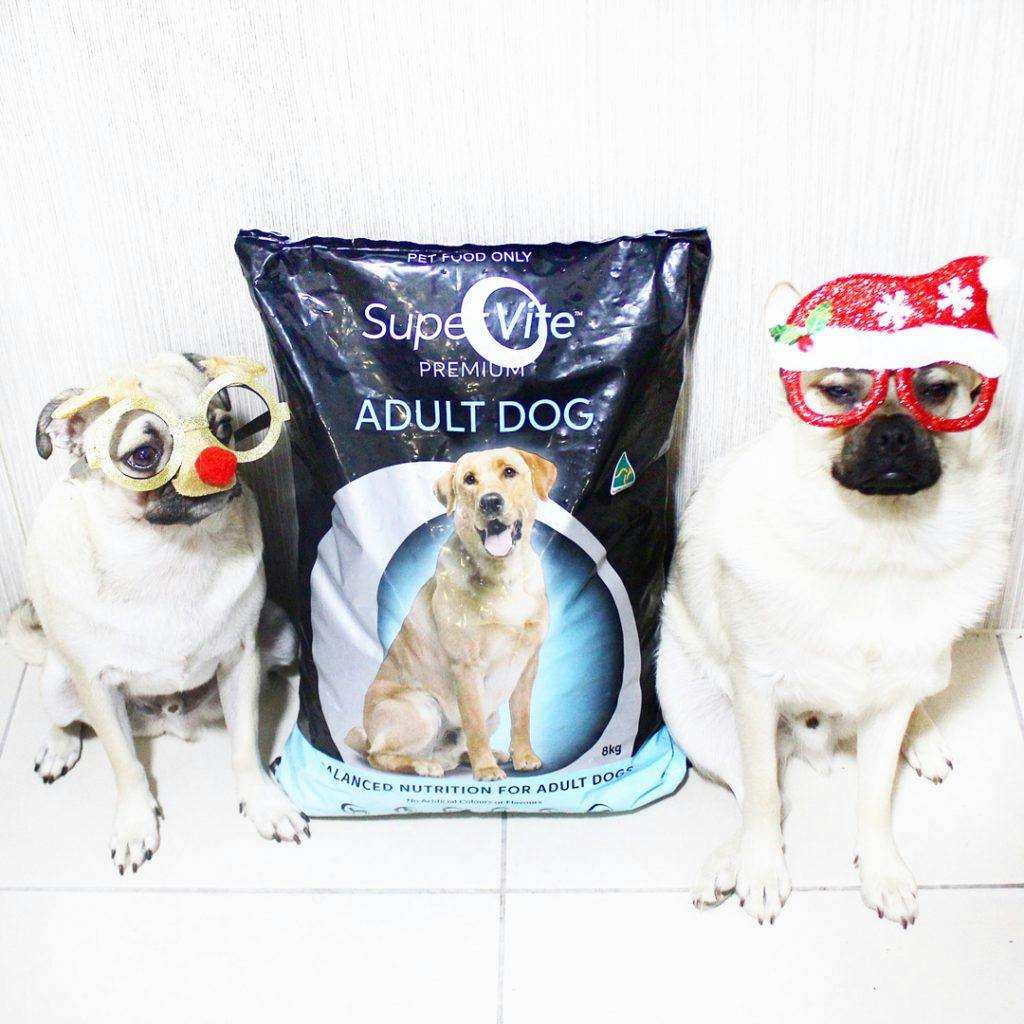 [caption id="attachment_3287" align="aligncenter" width="1024"] FOOD COMA! Note: The dog food pictured above is also purchased from The Reject Shop - $8.99 for an 8kg bag of Super Vite Adult dog food.[/caption]
Festive collars
Costumes and accessories not really your thing? Perhaps you're looking for something a little more subtle to celebrate this festive season? Or maybe you'd like to purchase something that can be used all year round? Again, The Reject Shop has the perfect solution - check out these glittery red collars that retail for just $3! They've even got a red bowtie attached, for an extra dose of fancy schmancy! These collars are so versatile that they can be used for any special occasion - Christmas, Valentine's Day, Easter… or even just a walk to the local park, because any time spent with your dog is a special occasion in itself. You'll be sure to turn heads with these beauties!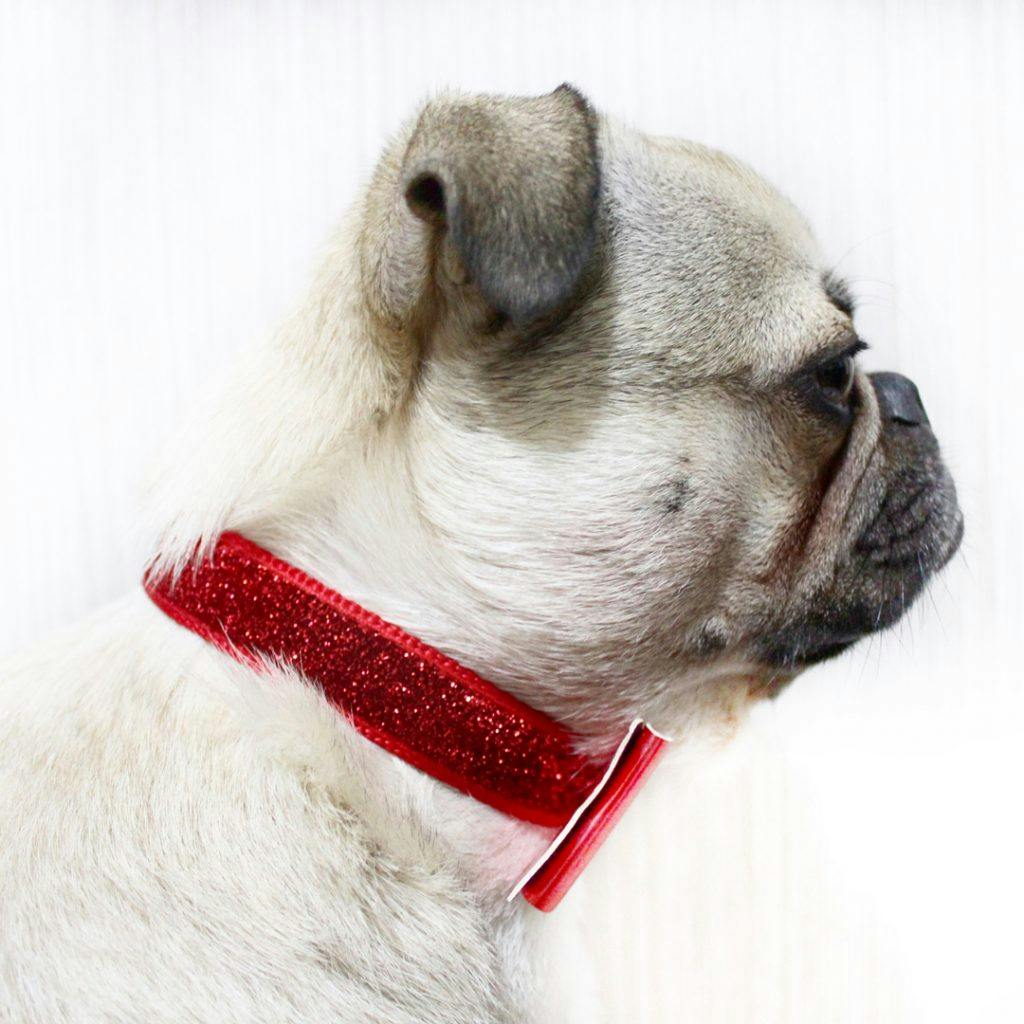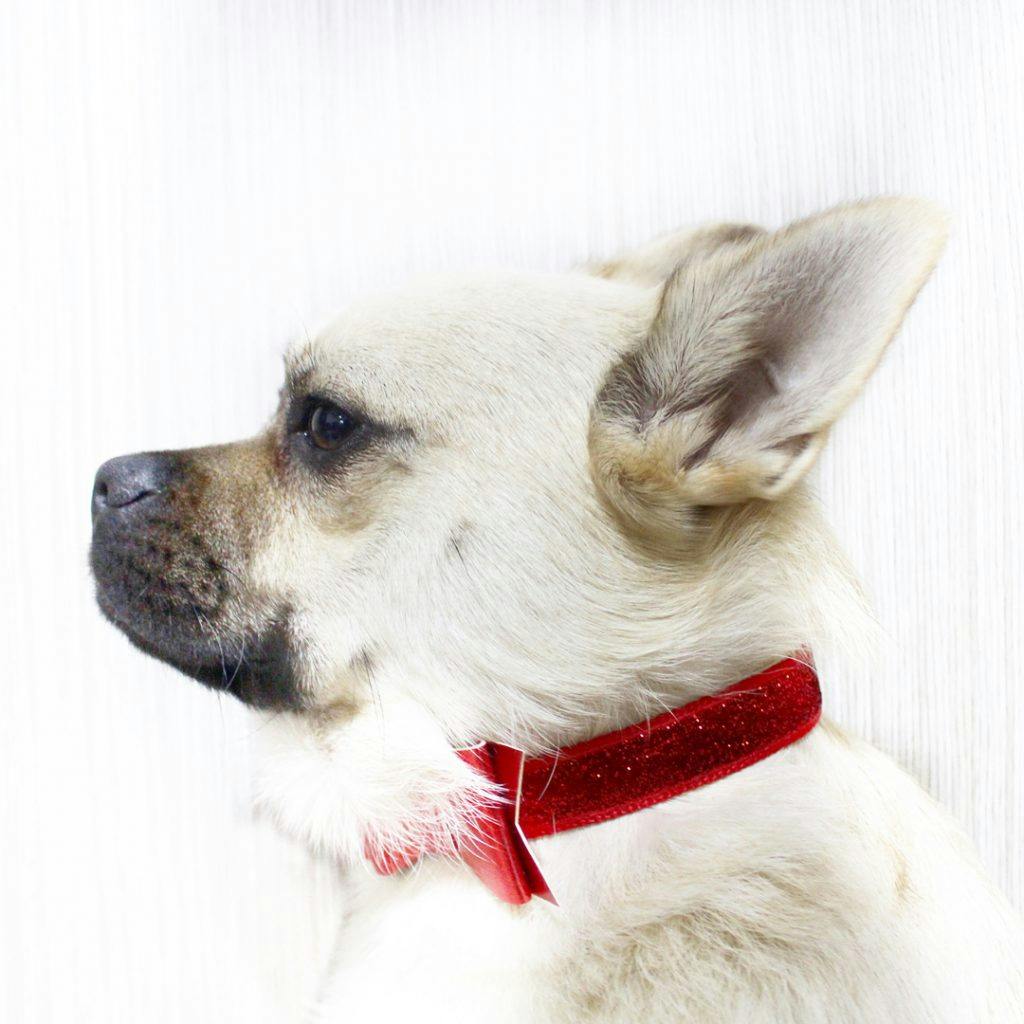 Squeaky Toy
We admit that Christmas isn't all about dressing up, although it does play an important role! However, from the dogs' perspective, costumes might not be too appealing… but toys certainly are. Especially ones that squeak! Hurry up and head into your local store and pick up one (or two or three) squeaky toys - a classic with a festive twist. Sam is pictured with his choice of squeaky - a red HoHoHo bone, for just $3. Oh, and this bone also comes in green if that's more your colour. The sky's the limit!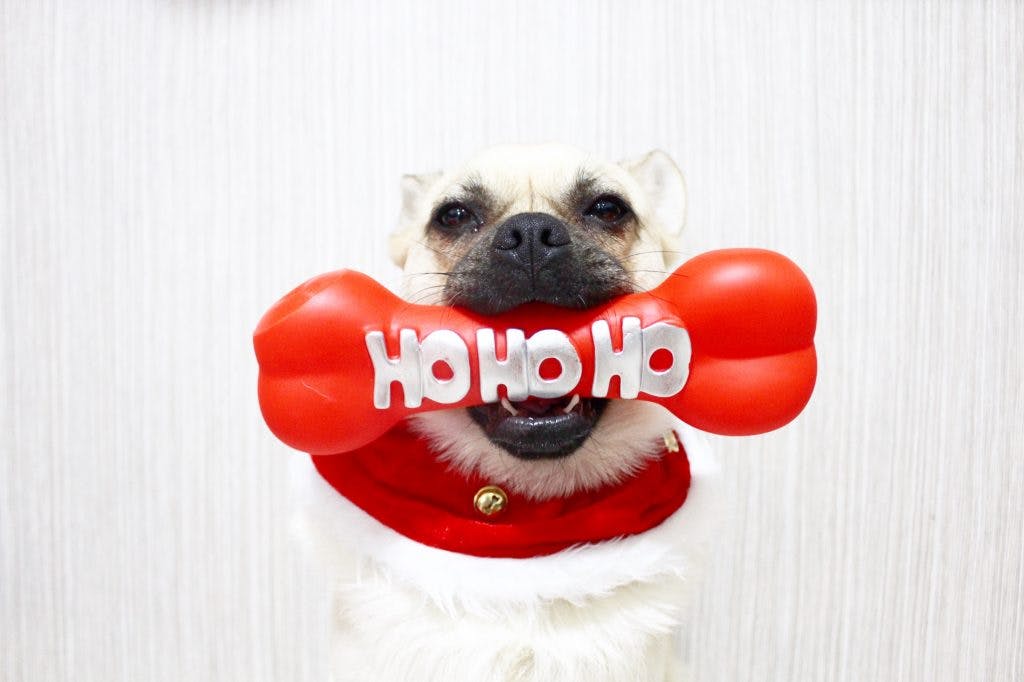 [caption id="attachment_3283" align="aligncenter" width="1024"] Pet toy bone - $3[/caption]
Tuggy Toy
There's nothing better than a good game of tug o' war… except perhaps when you're playing tug o' war, using a festive themed tuggy rope, during Christmas. Beautifully intertwined red, green and white, attached to a Santa ball, this tug toy is both aesthetically pleasing and fun! Your dog will LOVE it. Plus, this guarantees their undivided attention and will facilitate some quality bonding time that really highlights what Christmas is all about - family, love, and good fun.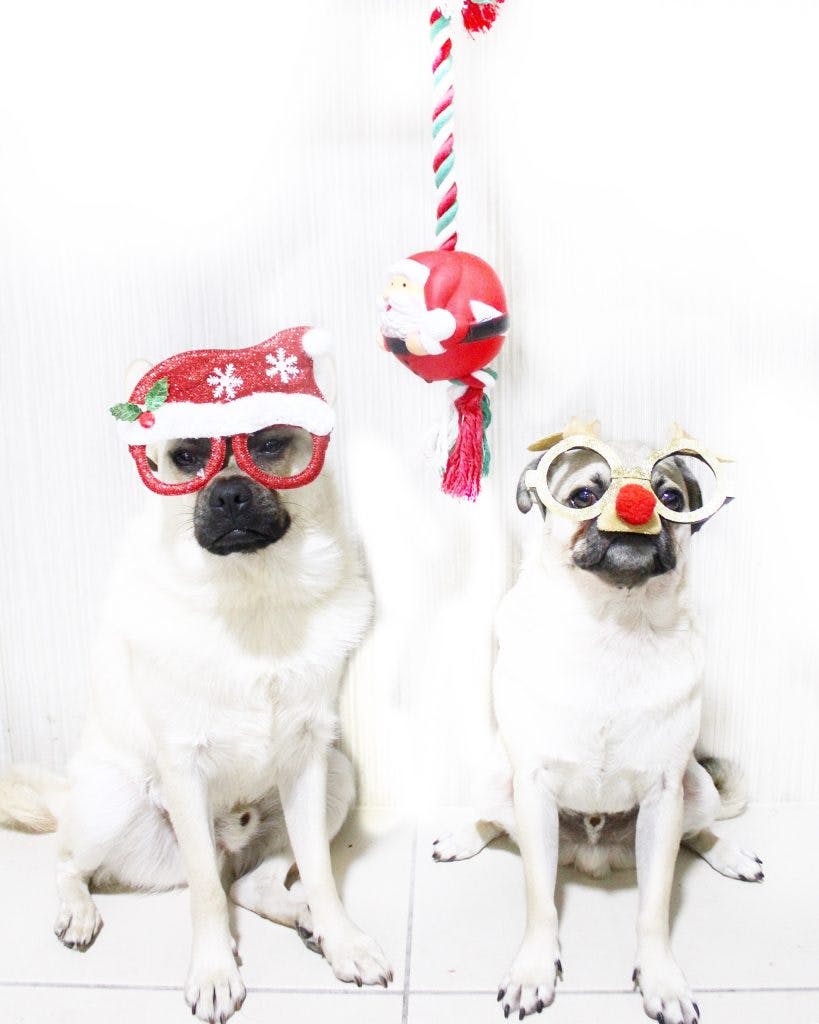 [caption id="attachment_3284" align="aligncenter" width="819"] Pet Toy $3 ; Novelty Glasses $4[/caption]
Which items do you think your pup would like most?  ? Leave a comment down below and let us know your thoughts and/or tag us in your social posts on Facebook, Instagram or Twitter!
Sign up to receive exclusive offers, VIP invites and all our hints & tips