Making your home colourful and festive for Christmas lifts the spirit and lifts your mood. You can decorate your home and not have it cost a lot of money. Let us show you some great ways to bring Christmas joy into your world.
Christmas Paper Chains
Paper chains are so easy to make and can be any length. You can hang them along the walls or drape them across your Christmas tree.
You can use either plain coloured paper for your chains or leftover wrapping paper for extra colour and pizazz.
You will need scissors and either a stapler or some sticky tape to secure the chains, and of course, your paper.
Cutting the paper
The chain links can vary in size, but we think 5 cm wide and about 20cm long make some pretty good-sized chain links.
Cut as many as you want, as many as you need. Through trial and error, you'll find the perfect length of paper for your chain.
Curl and Stick.
Take one of the strips of paper. Curl it upon itself into an "O" shape, making sure if it is patterned wrapping paper, the pattern is on the outside.
Either staple the two ends or use a small piece of sticky tape to secure the two ends of the paper.
Take your second strip of paper and loop it through the first, again with the pattern on the outside. Staple the two ends, or stick them, so you now have two loops of paper locked together.
Continue this until you've run out of paper or have a paper chain as long as you need.
The Reject Shop has coloured paper or loads of low-priced wrapping paper for you to choose from, and we have scissors and sticky tape in our stationery section as well.
Simple Fun Table Cloth
Colouring in the Tablecloth
For Christmas Day, a fun way to entertain the kids on the Kid's Table is to have a butcher's paper table cloth and a pot of coloured pencils or coloured markers. They can draw and colour in while waiting for the food to arrive, or something to keep them entertained after the meal.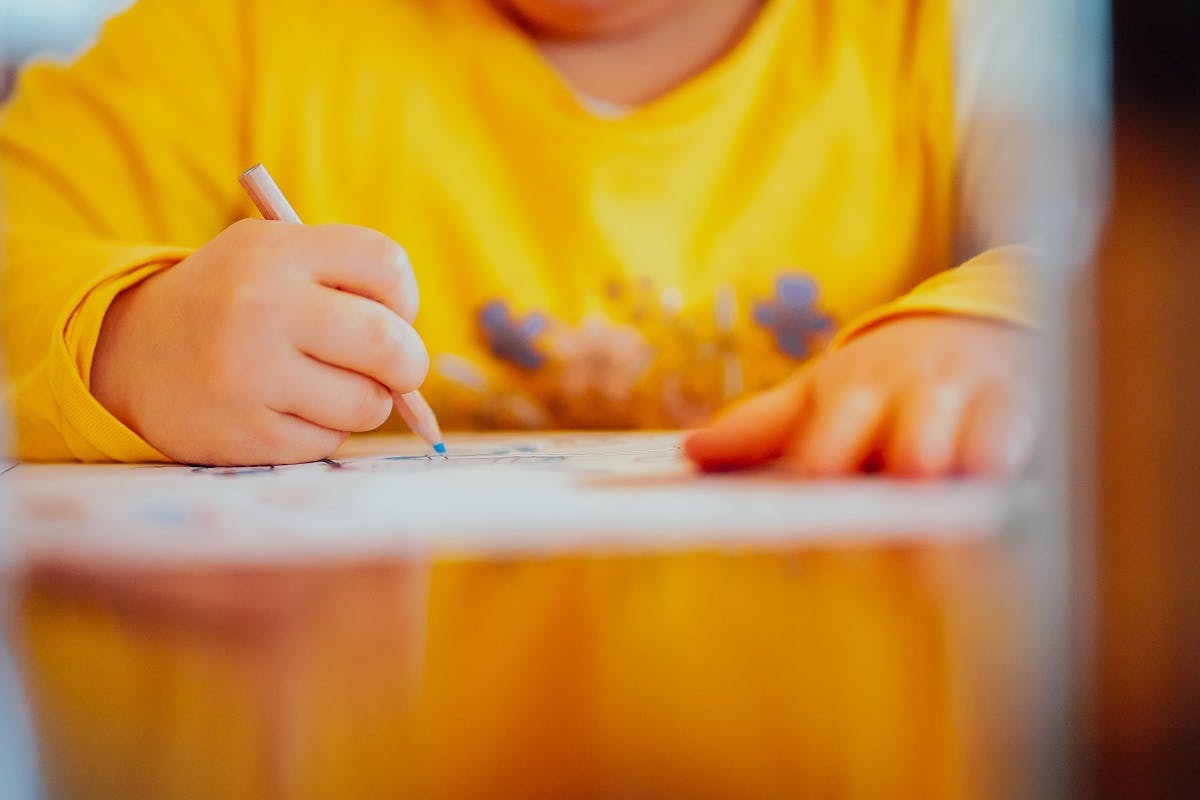 Step it up a Crafting Level
Along with the coloured pencils and markers, why not give the kids some crafting glue, some glitter, coloured paper, cotton balls, straws, you name it. Turn the table into crafting central.
They then get to eat their dessert around all the cool stuff they have made.
Mini Paper Christmas Trees
This is a cool little craft exercise which can be turned into table ornaments, or placed around the house for some Christmas cheer.
The Christmas trees are paper cones, coloured and decorated by your kids.
You will need paper, scissors, sticky tape and coloured pencils, stickers, glue, ribbons, things to decorate the tree with, go wild with your decorating imagination
Making the tree
You will need some paper. White or coloured craft paper is sturdy enough to make into trees. Plus it gives your kids a chance to decorate.
Draw a circle on your paper. Trace around a bowl or a cup to get a circle.
Cut the circle out.
Then, cut a wedge from your circle of paper to make it look like you've cut a piece of pie to eat.
From here you curl the paper around until the cut edges meet, to form a cone. Take a small piece of sticky tape and secure the paper, inside the cone.
Decorate the tree
Now you get to splash colour and fancy upon the tree. Colour it in with pencils, you can glue tinsel around the tree, or cover it in stickers.
However, you want to prettify the tree is totally up to you.
As we said, they make great little table decorations. You can sprinkle lollies around the base to make it look more like a Christmas tree as well!
Can you think of some simple crafty ways to spruce up your home this Christmas? How are you bringing joy to your home this year without spending too much money? Find us on social media and show us your crafty side.
Have a safe and happy and sunny Christmas holidays, from all of us here at The Reject Shop.
Header image