When it comes to home styling, blogger Yvette Wilson from The Stylist Splash, knows how to shop savvy. We set Yvette the challenge to create a chic, on trend bedroom makeover using products from The Reject Shop.
"I was pleasantly surprised. There were lots of lovely homewares to choose from", said Yvette.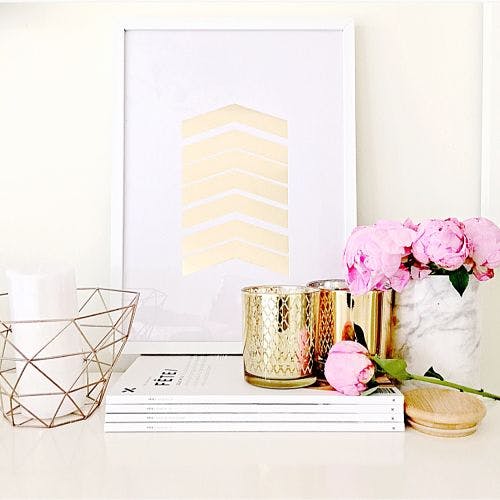 Here she has styled our gold candles holders and wire bowl with fresh flowers for a polished bedside table, desk or book shelf setting.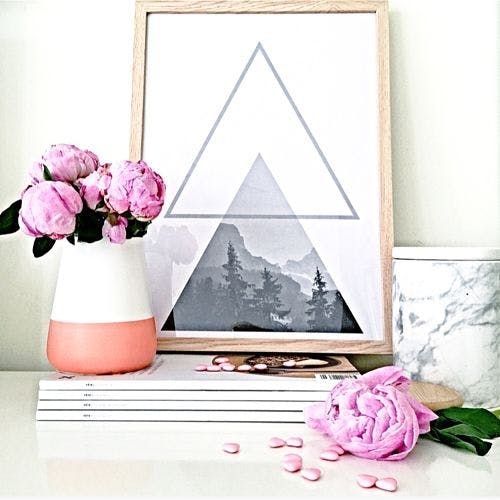 "The Reject Shop has lots of stylish products including this dipped ceramic canister for $6 which also has a bamboo lid. I thought it would make a lovely vase. The marble trinket jar was only $9 which is right on trend at the moment. The prints were $12 and came framed, such a bargain and there were lots of other patterns to choose from", says Yvette.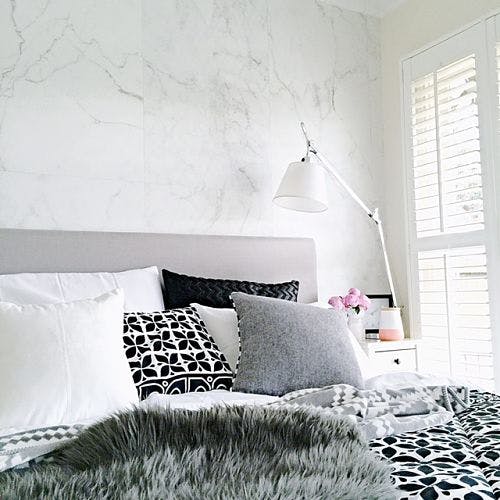 Don't be afraid to mix and match patterns and textures. When teaming fabrics the key thing to remember is that the patterns will work if they have similar tones.
Combine soft colours and deeper shades using using pillows, scatter cushions and throws. This simple monochrome look created by Yvette works well with our grey faux sheepskin rug, Aztec queen quilt cover set and white faux suede cushion.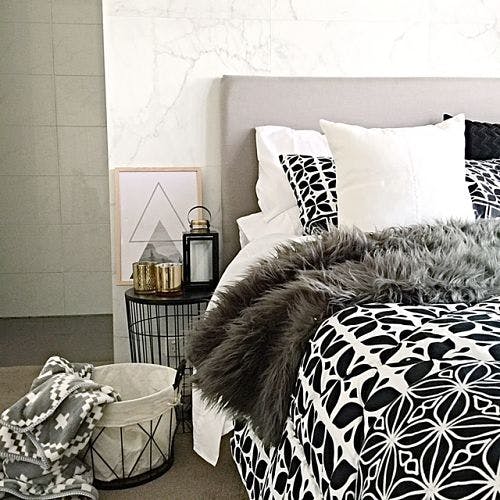 "As we're coming into winter, it's nice to layer up the bed with faux furs and plush throws which are all affordable and on trend," explains Yvette. Stow away the cushions and grey Aztec throw rug in our cotton lined wire baskets.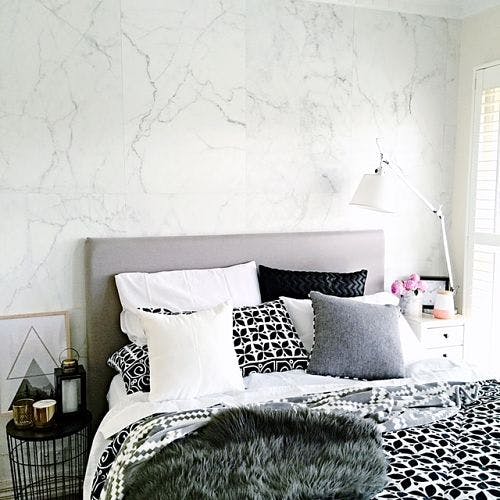 "I love candles in my bedroom as this adds a bit of luxe, especially in the gold", said Yvette.
When styling your bedside table create a balanced and interesting display using lights, art and candles in varying heights, sizes and shapes. Grouping three items work best and adding art as a backdrop is great a way to add height if needed.
"I love the monochrome look I have achieved for the budget bedroom makeover", says Yvette.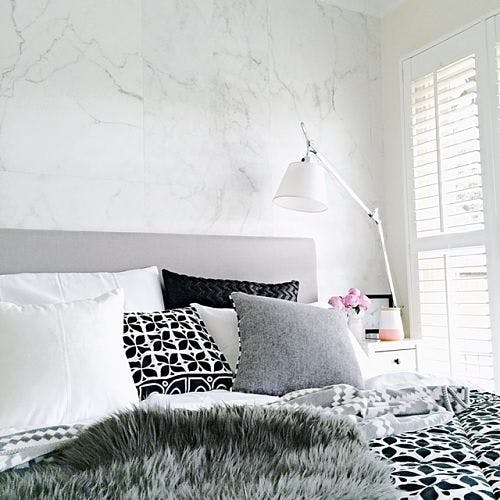 These products and more bedroom items can be found in store now. You can overhaul your bedroom and not break the bank.
Shop savvy and get creative!
gold candles holders starting from $3
rose gold wire bowl $5
dipped ceramic canister $6
marble look jar was $9
framed prints $12
grey faux sheepskin rug $25
Aztec queen quilt cover set $27
Aztec throw rug $10
white faux suede cushion $10
cotton lined wire baskets $12