Get ready to embrace all things spooky as The Reject Shop celebrates Halloween! With our new wheelchair-inclusive range of costumes, every kid can embrace their ghoulish side as the whole family celebrates this kooky time of year!
At The Reject Shop, we understand how important it is for every child to be included in Halloween celebrations, which is why we've created two wheelchair friendly costumes.
With the puff of a magic wand, one of the costumes transforms a wheelchair into a gorgeous princess carriage, while an 'Ahoy Captain' will see the other transform into a pirate ship!
Meet Princess Breana
Breana is a beautiful little girl who has just celebrated her 5th birthday in hospital. Born with congenital heart disease, Breana is wheelchair dependant. But that doesn't stop her – the bubbly little girl was happy to strike a pose and give a big 'thumbs up' to our wheelchair inclusive Halloween costumes when we met her recently on a photoshoot.
It's not unusual for Breana to spend time in hospital, and she's been in and out of hospital since she was born. Her mum Nicole describes her as a 'social little butterfly', so she's made many friends along the way who help make her stay just that little bit easier.
Breana loves Peppa Pig, music, dancing and the colour purple, and for the first time, can dress up along with her siblings to celebrate the Halloween festivities!
Halloween for everyone
The Reject Shop's wheelchair friendly Halloween costumes are easy to use and can fit any type of wheelchair. They simply attach to the wheelchair with velcro, and because every wheelchair is different, multiple velcro pieces are included with each costume to ensure that it fits.
Breana's mum Nicole is thrilled that this year, Breana can finally be included in Halloween celebrations.
"It's so good that Breana will have a costume that we will be able to actually see. Previously with other costumes, you actually haven't been able to see it once she's in her wheelchair, so this will mean she will look the part and be able to participate."
Our National partner, HeartKids
Breana and her family get a lot of support from HeartKids, who have supported the family since Breana was born.
HeartKids supports the 64,000 Australian children, teens and adults affected by congenital heart disease, and as our national charity partner, The Reject Shop has collaborated with them to release the Halloween range.
They support children, just like Breana, who are wheelchair dependent or who often find themselves in wheelchairs post-surgery and throughout their recovery stage.
As seen on Channel 9 News
Our Spooktacular Range
Along with The Reject Shop's full range of ghoulish kid's costumes, the Halloween wheelchair range will be available in selected stores nationally for $49, just in time for Halloween.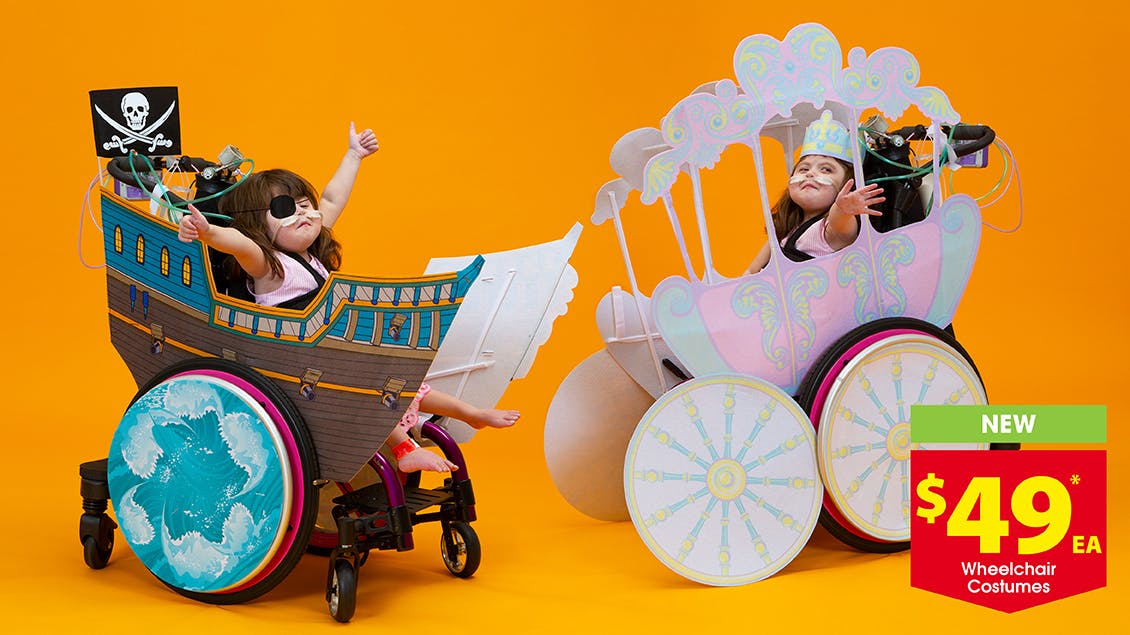 So, embrace your inner ghoul, and invite your friends, family and neighbours to have a spooktacular time celebrating the freakiest night of the year!
See more of our Halloween products here and find your nearest Reject Shop store here.
If you'd like to help other children around Australia, visit The Reject Shop Foundation, our not-for-profit foundation committed to helping kids in need with proceeds going to our national charity partner, HeartKids.
We'd love to hear what you think of our Halloween wheelchair-inclusive range and how your family celebrated this event, so please feel free to share in the comments below or on our social channels.
*Available in selected stores. Click here for further details.