Guides
Hen's Night Goodie Bags
So you've been appointed organiser aka party starter, best to clear your inbox now before you get inundated with texts asking what the night will entail, should they bring flats? Is transport provided? Should they cancel the next day's plans? No need to panic, we have prepared the perfect goodie bag that can be distributed to your guests to keep them lasting all day. Whether it's a girls weekend away or a 12 hour party, there will be no excuse for anyone leaving home early at this affair.
We think this should include:
Coconut water and straw: To keep hydrated and because you're all a little crazy in the coconuts
Lip balm: You'll be talking a lot. And smiling. And laughing. That's a real workout for the old lips.
Lollies: For the 11pm, 1am and 3am pick me ups to get you back on the dance floor and shaking your groove thing to 90's favourites.
Bandages: For all bad decisions made regarding footwear choices
Hand sanitiser: Kill any unwanted germs instantly
Hair ties:  For the moment you decide to really break loose on the dance floor and don't want your hair to whip back and forth.
Tissues:  To wipe away the happy tears from fits of laughter. He said what???
Party bags, ribbons, name tags: To wrap each of these in and add a little flourish of ribbon and personalize with a little nametag. Aww, totes adorbs.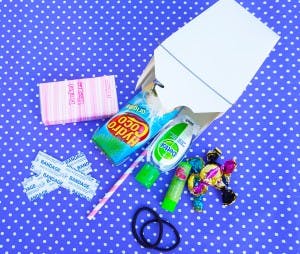 All products or variations featured can be found in store.
What has been the best Goodie Bag you received for a Hen's Night? Share with us below.
Hero image Photo by Amy Shamblen on Unsplash
Sign up to receive exclusive offers, VIP invites and all our hints & tips