DIY, Gardening, Guides
Creating a Vertical Garden for Your Home is Fun and Easy.
Having a vertical garden full of greenery, full of food, full of flowers, is good for your health. It helps you be productive, gets you doing something. It helps with positive mental health and, with the right plants, gardening can even feed you. One of the most effective kinds of gardens you can have is a Vertical Garden. These gardens save water and save space, plus they can be used as a feature wall to bring colour and vibrancy to your home.
What is a Vertical Garden?
The simple answer to this question is- a Vertical Garden are plants installed on a vertical wall in a variety of ways. They can be freestanding, or attached to a wall via numerous methods.
You can have individual plants attached to a vertical surface or a coordinated garden with an integrated watering and re-feeding system.
For the inside of your home, vertical gardens are good for cleaning the air of pollutants and improving the quality of air inside your home. And they can relieve the sameness of flat walls. Suddenly you have lush green shapes and colours. You have a texture for a feature wall which is quite different to 'the normal'.
In your backyard, vertical gardens are great to sit near during summer, as they provide shade and take up very little space. Can you imagine walking outside and picking off some rosemary or thyme, some mint leaves for your cooking?
How to Design & Build an Affordable Vertical Garden
It is quite easy to design and build a vertical garden for yourself. One of the simplest ways is using old wooden pallets.
The Reject Shop has plenty of gardening supplies to help with the construction of hanging gardens. We have gardening wire, hanging hooks for planters, and plastic pots for the plants themselves. At the end of this article, we will have a short shopping list of supplies for you to choose from.
You can drill and attach the hooks to the horizontal slats of the pallet. Then you can drill a small hole in the pots holding the plants, to hang on these hooks. Be aware of drainage, and that water from pots above may flow downwards into the pots below.
When hanging the pallet to your outside wall for the vertical garden, ensure there are at least two hand-widths of space between the pallet itself and the wall. You need space for water to drip down and not rest against the wall. This could cause water damage to your wall and be costly in the future. And if you need to work behind the vertical garden, this space will make it much easier.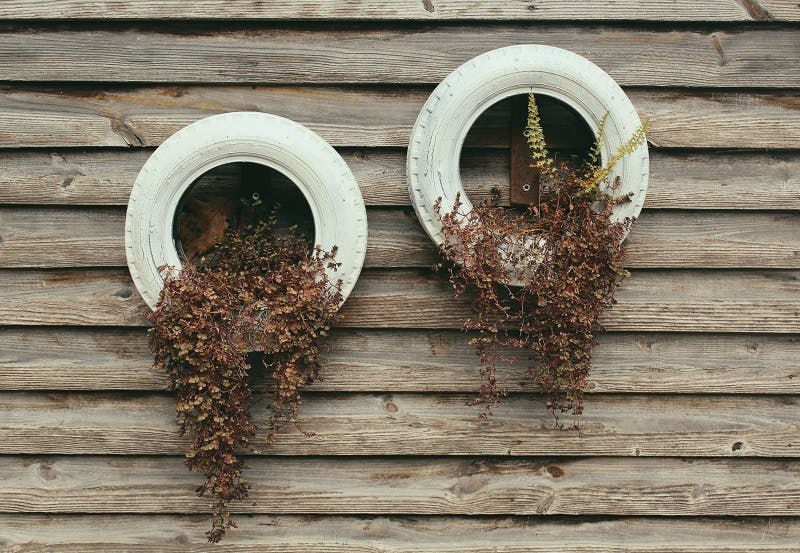 Other designs for vertical walls can include PVC pipes for planting your greenery; hessian sacks with plants poking through.
You can cut the sides out of plastic soft drink bottles, fill them with soil and have them hung on a wall with the gardening wire.
There are many designs you can use to green up your backyard.
Best Plants For Vertical Garden
This is an important question to ask. Which plants best suit a vertical garden? The wrong choice of the plant can mean the difference between a flourishing wall of green, and starving plants of water and bare patches.
Ferns
Ferns are hardy plants really suited for a wide range of growing environments. They have great area coverage and decorative green foliage. They generally grow downwards, so some smaller plants to help with coverage would be a good idea.
Succulents
Succulents are incredibly hardy plants in a wide range of environments. Varieties with big leaf coverage are good, and the smaller varieties to fill in spaces can be decorative too.
Succulents such as 'String of Pearls', 'Sedum' and 'Crassula' would be good choices for your vertical garden.
Vines
Vines are great plants for vertical gardens in both directions. You can plant them at the top and have them dangling down and growing as a curtain.
Or you can train them to group upwards through the garden to the top.
Species such as Ivy, Rosary Vine or Wandering Jew would all be perfect for a vertical garden.
Food Stock
A perfect use of the vertical garden is for planting herbs and some vegetables. With very little space you can have a wide range of herbs to add to your cooking, and some good salad vegetables too.
You can grow mint and basil, radishes, tomatoes, lettuce and more.
There is nothing greater than picking fresh herbs from your own garden to add to your home-cooked meals.
Why Is Vertical Gardening Important
There is a growing movement in self-sufficiency, especially in light of the Covid-19 crisis. Being able to grow your own food at home, rather than waiting on unreliable supply chains, is important.
The types of food you could grow in your vertical garden depends both on the climate and how much sunlight strikes the area where you have installed the garden.
If your garden is in the shade, we suggest plants that don't depend on much sunlight.
 These plants include:
Watercress
Lemon Balm
Violets.
If you get intermittent sunlight:
For full sunlight gardens:
** Be wary as these plants can dry out quickly. A good watering source is recommended **
Vertical gardens are great for small apartments as they don't take up much space. They are an eye-catching feature for the backyard, especially for townhouses where the backyard is a little cramped. You can add a splash of green to your office space as well.
Pick up your greenery supplies at The Reject Shop today, where we are committed to saving all Australians money on everyday living.
Shopping List of Supplies
Sign up to receive exclusive offers, VIP invites and all our hints & tips