How to have a budget-friendly and fun Halloween from home this year.
Halloween is a fun time of year. Kids dressed up in crazy costumes walking the streets with their parents, going door-to-door asking for treats. This year is different, however. This year we have physical distancing and face masks. In some cases, people can't even leave their homes. Fear not! The Reject Shop is here to help with ideas on having a scare-ific Halloween from home!
Giving out treats
Halloween Hunt
A fun and creative way to give out sweet treats this year could be through a graveyard treasure hunt.
Decorate your front yard with some fake gravestones, some skeletons, perhaps some spiders and ghosts. Hide some candy around the graveyard and let your kids to do some playful grave digging to find the candy treasure.               
Online Parties
If there are still restrictions on the number of people allowed in your home for celebrating, how about an online party?
With at-home learning and remote working, video calling has become second nature to us. Why not try an online group video Halloween party!
Decorate your online space
If you've organised a virtual Halloween party, don't forget to decorate your online space! There are two ways you can decorate. You can either find a Halloween inspired virtual background, or you can buy some Halloween decorations and spice up the room. Have a jack-o-lantern in a corner, a skeleton in another. Drape some spider webs and tinsel around, some fake spiders on your desk.
Dressing up
Don't forget your costume! Whether you're looking to DIY or buy a costumer for yourself or the kids, we've got you sorted.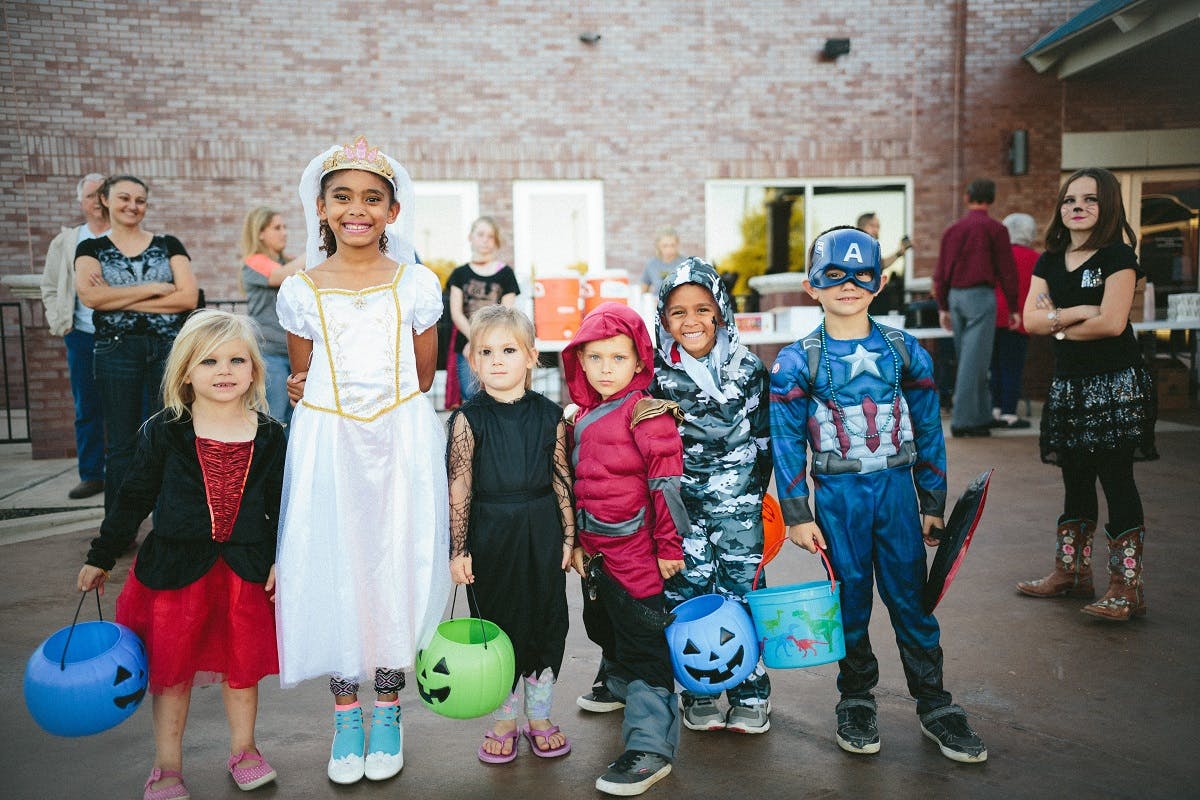 Scary Stories
What's a scary party without scary stories? Take it in turn to tell each other ghost stories or spooky tales. Turning your lights off and shining a torch from beneath adds that extra spooky atmosphere.
Watch Party - Scary Movies
Why not watch scary movies with your friends? There are apps around where you can all watch at the same time and chat. Or you find the same movie, start it in synch with each other and go.
Some fun Halloween movies include – The Nightmare Before Christmas, The House with the Clock in the Walls, Hocus Pocus or Goosebumps. 
Just because we may have to party from home doesn't mean we cannot dress up, decorate and have fun. Telling stories, sharing the night with people far and wide, is special. Throw in a spooky film, some Halloween candy and drinks, and you'll have an awesome night.
The Reject Shop has some great budget-friendly ways to help you celebrate. From Halloween decorations to scary costumes and candy treats, we've got you covered at The Reject Shop.
Check out the range of tricks and treats.