Traditional Christmas cakes are rich and fruity and very delicious. The Christmas cake we're showing you today is lighter and tastes like chocolate malty awesomeness. It is a little different and very original. Surprise your family with this Malteasers cake on Christmas day or any of the feasts you have during the holidays.
Ingredients
1 ½ cups brown sugar
1 cup of milk
190g butter
1 ¼ cups self-raising flour
¾ cup plain flour
¾ cup of cocoa
4 eggs
300g dark chocolate melts
125ml thickened cream
30g butter
465g Mars Maltesers
200g white chocolate melts
2 Allen's Jaffas (or similar)
2 Spearmint leaves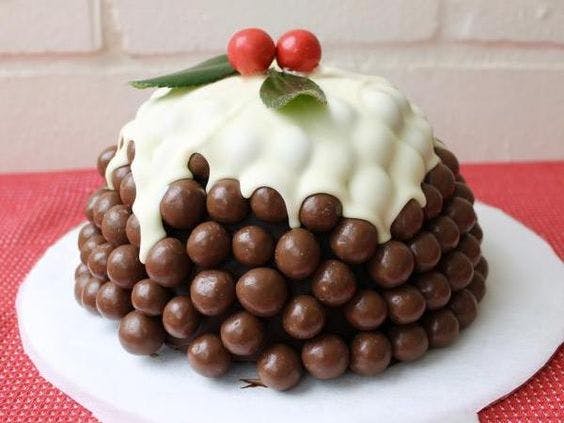 bestrecipes.com.au
Method
Preheat your oven to 180C.
Grease the inside of your pudding steamer with butter.
a.       If you don't have a pudding steamer, a large Pyrex bowl, or something similar and heatproof, will do. Just be aware you may have a different shaped pudding at the end.
Mix the dry ingredients together –flours and cocoa. Then whisk the eggs into the mix.
When all ingredients are combined pour into your pudding steamer. Put steamer into the oven with no lid, for 40 minutes. Check on the pudding after 40 minutes and turn the heat down to 170.
Cook for another 10 minutes or so. Check with a skewer until no cake comes out. Let the pudding cool down completely before adding the ganache.
GANACHE! Melt your dark chocolate, butter and cream together. You can do this in a saucepan or the microwave. Let it sit for about 15 minutes to thicken.
Cut the bumpy top off your pudding so you can flip it and decorate it.
Cover your cake with your ganache. Feel free to lick the spoon afterwards.
Before the ganache cools and sets, begin decorating with Malteasers. You can make patterns or designs, or completely cover your cake with Malteasers.
Let the cake chill in the fridge for at least 2 hours.
Once the cake is chilled, time to work on the white chocolate. Melt your white chocolate in a bowl. Let the white chocolate cool down a little bit. If you pour the white chocolate on when it is too hot, the Malteasers will melt.
When your white chocolate is at room temperature, pour it over the cake so it looks like traditional custard topping.
Finish with 2 jaffas and 2 spearmint leaves for holly.
Enjoy your Staycation these summer holidays. All the best from The Reject Shop.