Recipes
Nectar & Stone's Caroline Khoo Beetroot x Chocolate Eeni Mini Cakes
When we think of the biggest cake boss, dessert designer Caroline Khoo from Nectar and Stone, was first to mind. She knows how to not only bake but to create beautiful desserts almost too pretty to eat. We asked Caroline her secrets to being a cake boss and to share a much sought-after N&S cake recipe, exclusive for The Reject Shop savvy blog readers. Here's what Caroline had to say, enjoy!
I was so excited to recently work on a collaboration with The Reject Shop celebrating the CAKE BOSS baking and decorating collection. I was given the opportunity to develop a recipe and design something special for my community and at the same time give the CAKE BOSS products a test run in the studio and the chance for my community to win some of the range.
As soon as I saw the 4 x 4-inch cake tins in a box I knew instantly that I wanted to make "eeni mini's" that is the name I use to refer to small and petite desserts. I love the idea of referring to "dessert for singles" - or "just for me...because". I wanted the cakes to be something indulgent too - chocolate was the instant answer. To create a moist chocolate cake, beetroot is a great addition and works really well as a flavour combination. Don't worry, you won't be tasting beetroot in this recipe but it certainly provides the cakes with a beautiful moist texture to it and when complimented with a smooth luscious icing - it is a sweet marriage.
The decorating tools are so easy to use and you can create such amazing designs with them. I have used the CAKE BOSS large leaf cutter and made a selection of leaves to decorate the cake with. But your imagination has no limits and you create an abundance of different designs using one simple tool or check out The Reject Shop's other decorating tools including hearts and flower cutters.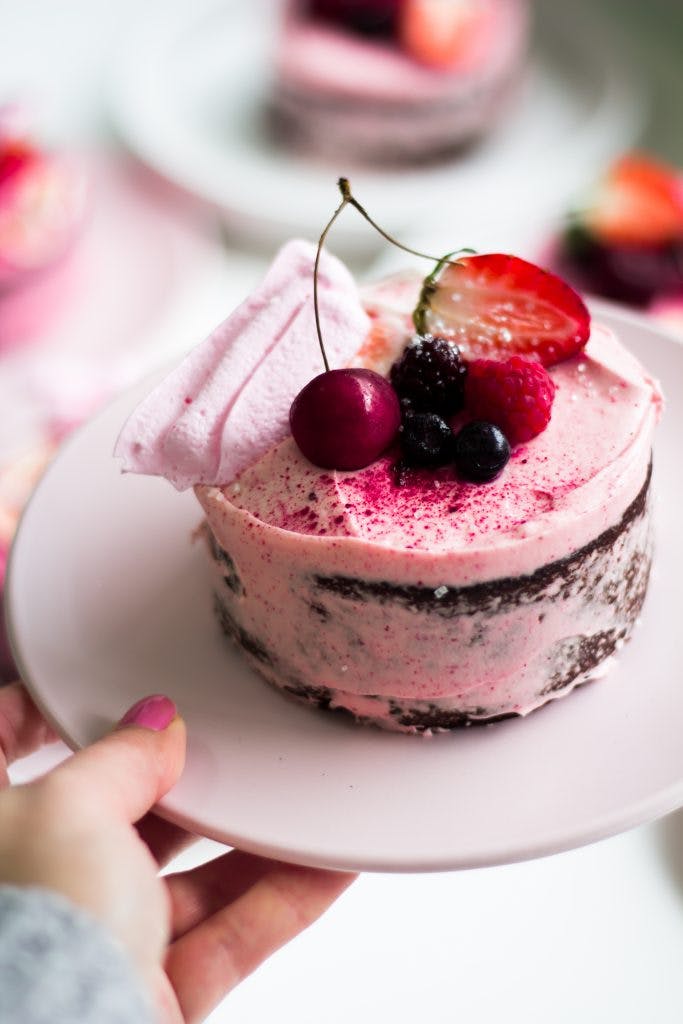 Beetroot x Chocolate Eeni Mini Cake Recipe
Cakes Recipe:
100g unsalted butter softened
280g caster sugar
3⁄4 cup canola oil
1 tsp vanilla extract
2 eggs
300g self-raising flour
3 tbsp. unsweetened cocoa powder
1 cup buttermilk*
1 additional tbsp. white vinegar
2 tsp bicarbonate soda
60g melted dark chocolate (70% cocoa)
225g beetroot puree (use the tin beetroot)
Pinch of salt
*How to make buttermilk
250ml milk
1 tbsp. white vinegar – let it rest for 5 minutes
Icing for Cakes:
250g cream cheese softened
1⁄2 tbsp. milk
200g soft icing mixture
70g unsalted butter softened
1 - 3 tsp beetroot powder
Decoration:
6 fresh strawberries cut in half
6 fresh raspberries
6 fresh cherries
12 blueberries – 2 to each cake
Optional
blackberries / meringues and beetroot powder sprinkled
Pearl coloured sugar sand
CAKE BOSS leaf cutter / fondant and food colouring with white alcohol spirit like Vodka / Gin.
Method:
Set oven to 180 degrees – fan forced.
Make buttermilk and leave to the side.

In a food processor, add the beetroot and puree. Leave to the side.
Using canola oil cooking spray, spray 6 x 4inch CAKE BOSS spring-form tins and line with baking paper.
In an electric mix master with whisk attachment – place butter, sugar, oil, eggs and vanilla extract and beat for 5 minutes.
Sift self-raising flour, cocoa powder, salt and bicarbonate soda in a bowl.

Melt the dark chocolate over a bain-marie method (a bowl of simmering water with another heatproof bowl that sits on bowl of simmering water. Gently melt the chocolate, ensure that you don't let any water come into contact with the chocolate). Remove the bowl from the heat and allow to cool for a couple minutes.
On low speed of the electric mix master – gradually add the melted chocolate.
Add the additional tbsp. of white vinegar to the buttermilk.
Continuing on low speed of the mix master, alternate between adding the dry ingredients and the buttermilk, finishing off with the dry ingredients.
Add the beetroot puree to the mix master until all the ingredients are fully incorporated.
Using a measuring scale, place one cake tin on it, make sure you zero out the scales with the cake tin on it and then add 210g of the cake mixture. Continue with all the cake tins.

Place in oven and bake for 32 minutes ( each oven will vary so the range of time may be 30 – 33 mins).
Insert a skewer into the centre of the cake to see if it comes out clean and baked through.
Allow the cakes to rest on a wire rack for 5-7 minutes before removing the cakes from the tins. Allow to completely cool down – approx. 40 minutes.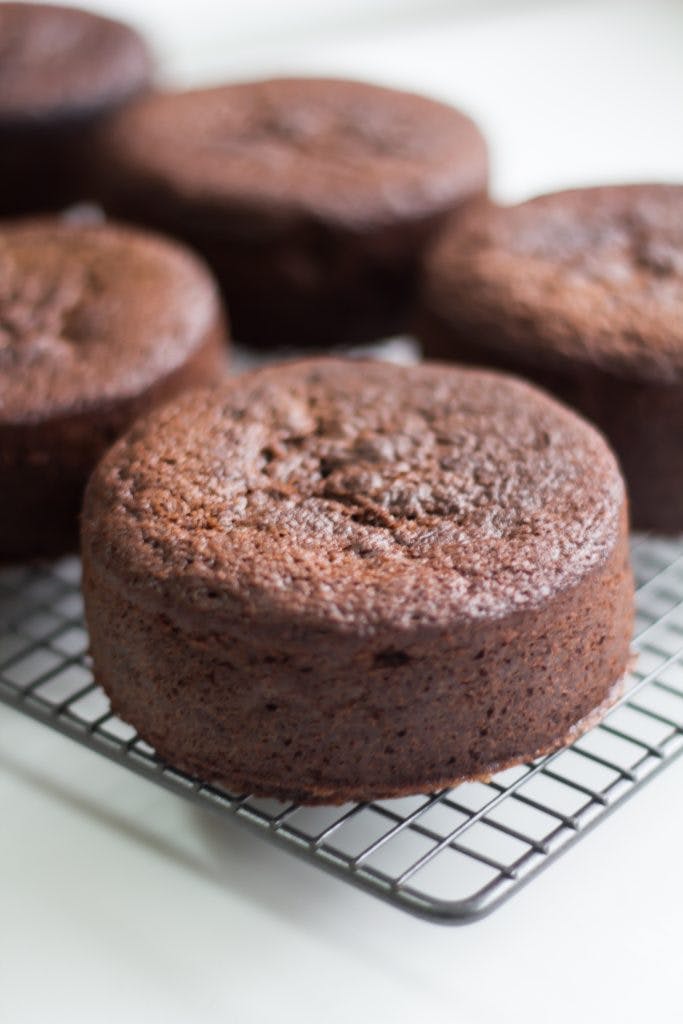 Icing:
To make the icing, place all the ingredients in the mix master with whisk attachment and beat until light and fluffy – for approx. 5 minutes. Add a tsp of beetroot powder and mix until you have a light pink colour.
Using a large silicone spatula, heap some icing on it and place on one cake. Smear with a metal spatula on top of the cake and sparingly around the sides of the cake. Repeat this process to 2 or 3 of the cakes.
To achieve a darker pink, add another tsp of beetroot powder to the mix master bowl, beat and then repeat the decorating process.

Sugar Leaves:
You can buy modelling paste / fondant from specialty cake decorating stores. You will need a small handful - no more than the size of a tennis ball.
You will need 1 – 2 tbsp. corn flour
Rolling pin
Cake Boss Leaf Cutter
Cake Rack
Food Colouring – Ameri Colour Pink or Red and for a little glamour use gold powder.
A cap full of Vodka or Gin
Gum Paste or Fondant - about the size of a tennis ball.
Method:
Using the rolling pin, roll out the fondant so that it is no more than 2mm thick. Use the corn flour to gently rub on the fondant so that it doesn't get too sticky.
Using the CAKE BOSS large leaf cutter, make cut outs of the fondant. You can bend the leaves by slightly twisting them. As you cut the leaves out, place onto the cake rack to dry out. You will be able to make at least 30 leaves from this.
Add a tiny drop of food colouring to a bowl and add the cap full of the vodka or gin. Using a small paint brush – (make sure this one is used only for food) gently mix the colour and then apply onto the leaves. You can make the leaves slightly darker by adding a little more colouring to the bowl.
Allow the leaves to dry for at least a couple of hours. You can make these way ahead of time / a few days before and keep in an air-tight container.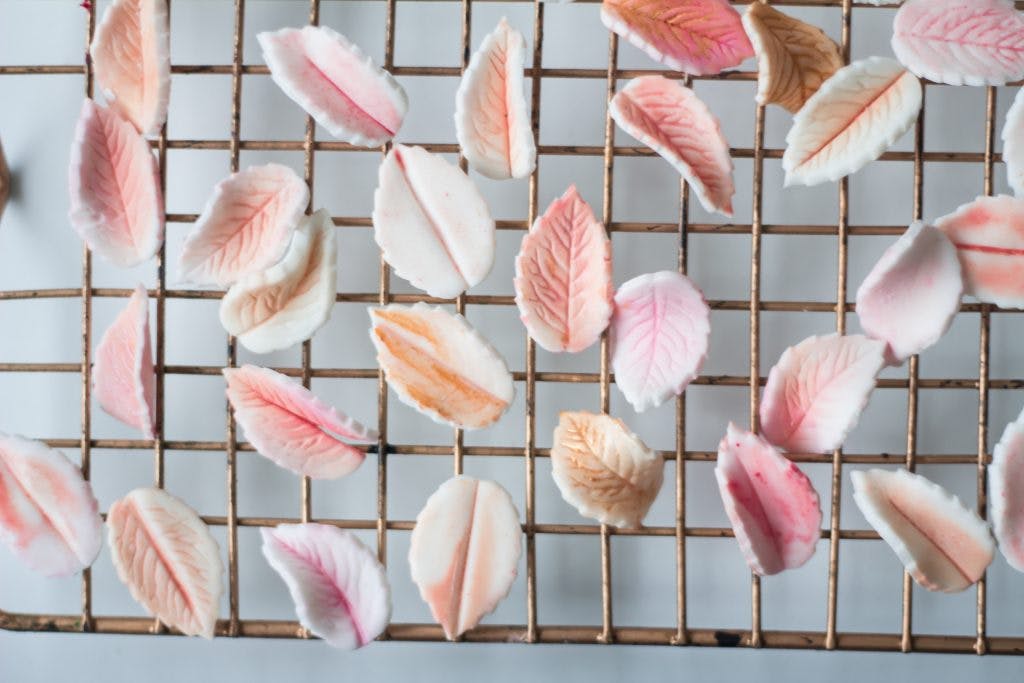 To finish off the cakes
1. Add the mixed berries and a selection of leaves to the cakes and a sprinkle of the sugar sand.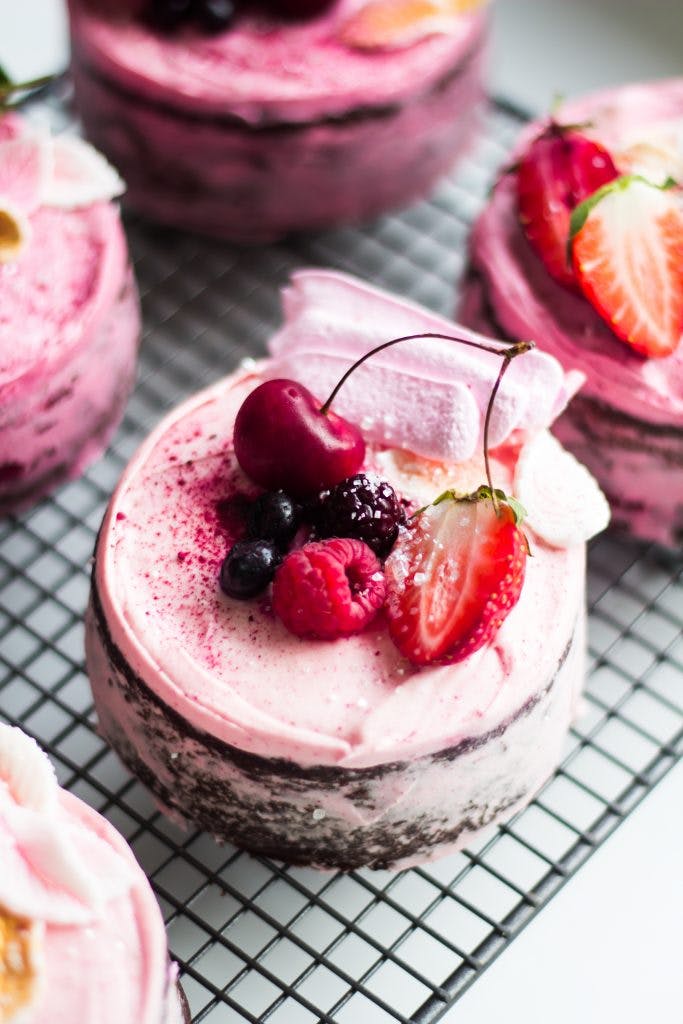 These pretty little cakes are such a great afternoon tea idea that can be enjoyed in a small group or you can triple the cake recipe and make lots of them for an event and by adding a little more beetroot powder to the icing, you can create a gorgeous section of shades that create visual impact too.
Enjoy,
Caz
Do you know the biggest boss of baking? Nominate a friend to be The Reject Shop's Biggest Cake Boss and you could both win a Cake Boss Prize Pack PLUS a $100 Gift Card from The Reject Shop! ENTER HERE.
Hashtag #BiggestCakeBoss #GetSavvy & tag @therejectshop on Instagram to showcase your boss cake & your chance to get featured.
Sign up to receive exclusive offers, VIP invites and all our hints & tips