There's nothing more exciting than a furry friend joining your family. Whether that's a new puppy or kitten, a rescue pet or a fully-grown cat or dog - The Reject Shop has everything you need to make sure you're ready for their arrival. The more prepared you are, the more time you'll have to bond with your new best friend.
The art of choosing the perfect pet bed
Creating a space for your new pet will help them feel safe and instantly at home. Start by deciding if your cat or dog will sleep inside or outside. (Note: It is recommended that cats should be kept inside at night to prevent them wandering and potentially getting into trouble with local native nightlife). The Reject Shop has a huge range of pet beds and mats to choose from starting from just $6 each. Make sure you select a bed that gives your pet room to stretch and grow, but isn't too big, pets like to feel safe, cozy and protected.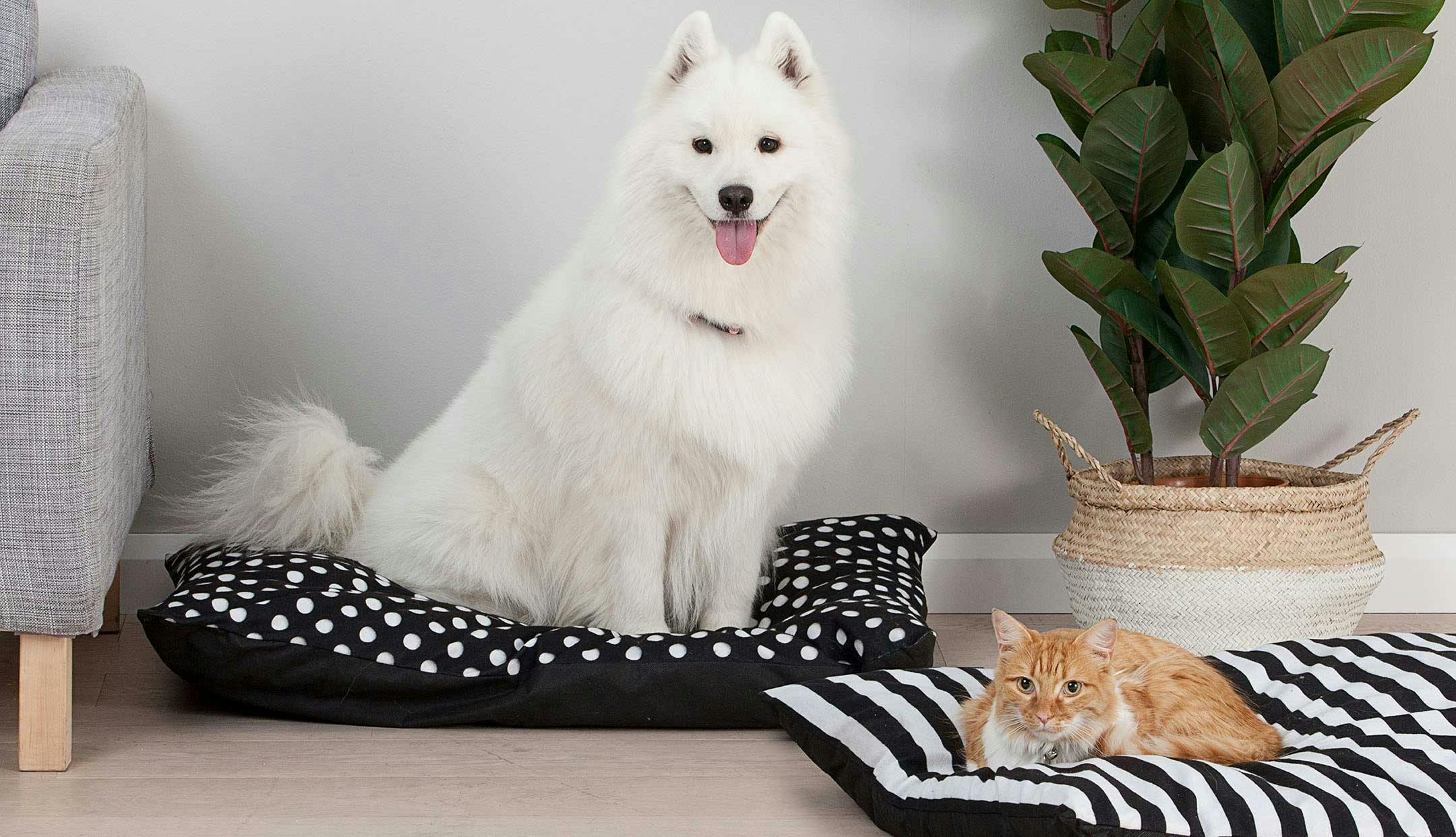 If your pet is sleeping outside, specially designed dog houses will offer the best protection. Like our all-weather plastic dog house, just $45. Be mindful to position your pet's bed undercover so they are sheltered from the elements. You can add a soft blanket or mat for extra comfort. We have super soft, printed pet blankets for just $7 each. Waterproof beds and mats also work well as day beds and give your best friend a cushy spot to relax during the day. Make sure you check out our full range of styles and colours so you can decide just what your pet needs.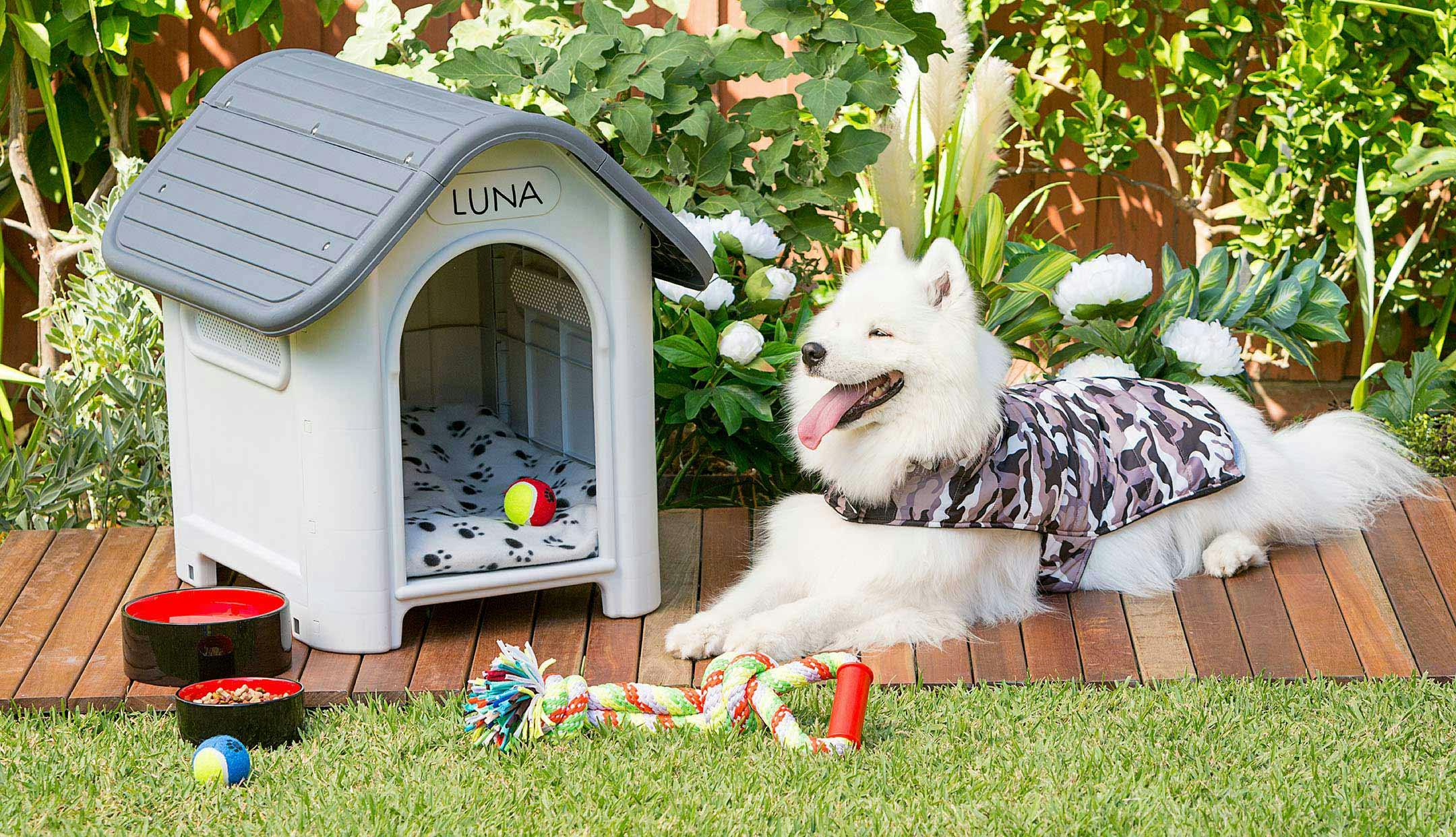 Meal times sorted the savvy way
A healthy pet starts with a healthy diet. The Reject Shop has a range of pet food and treats your pet will love, including Pedigree dental chews (available in small, medium and large just $12 for a packet of 28) for healthy treats. It's important to store the food and treats in a sealed dry container. The Reject Shop has pet-food tins with a scoop included, in a range of sizes from small $7, medium $11 and large just $16. These stylish tins will keep your pet food dry and sealed away from any hungry critters.
Next, you'll need to select a food and water bowl. There's a terrific range of styles and sizes at The Reject Shop to choose from. We've got ceramic bowls in three sizes, perfect for puppies and kittens starting from just $3 for a 12cm bowl. Plus you can pick up a food mat for just $2.29 to help keep your pets feeding area nice and clean.
It's important to give your pet's bowl a good clean between meals to prevent any leftover food turning nasty. Just soapy water and a good rinse should do the trick. Also, make sure your pet always has plenty of clean water - especially on hot days.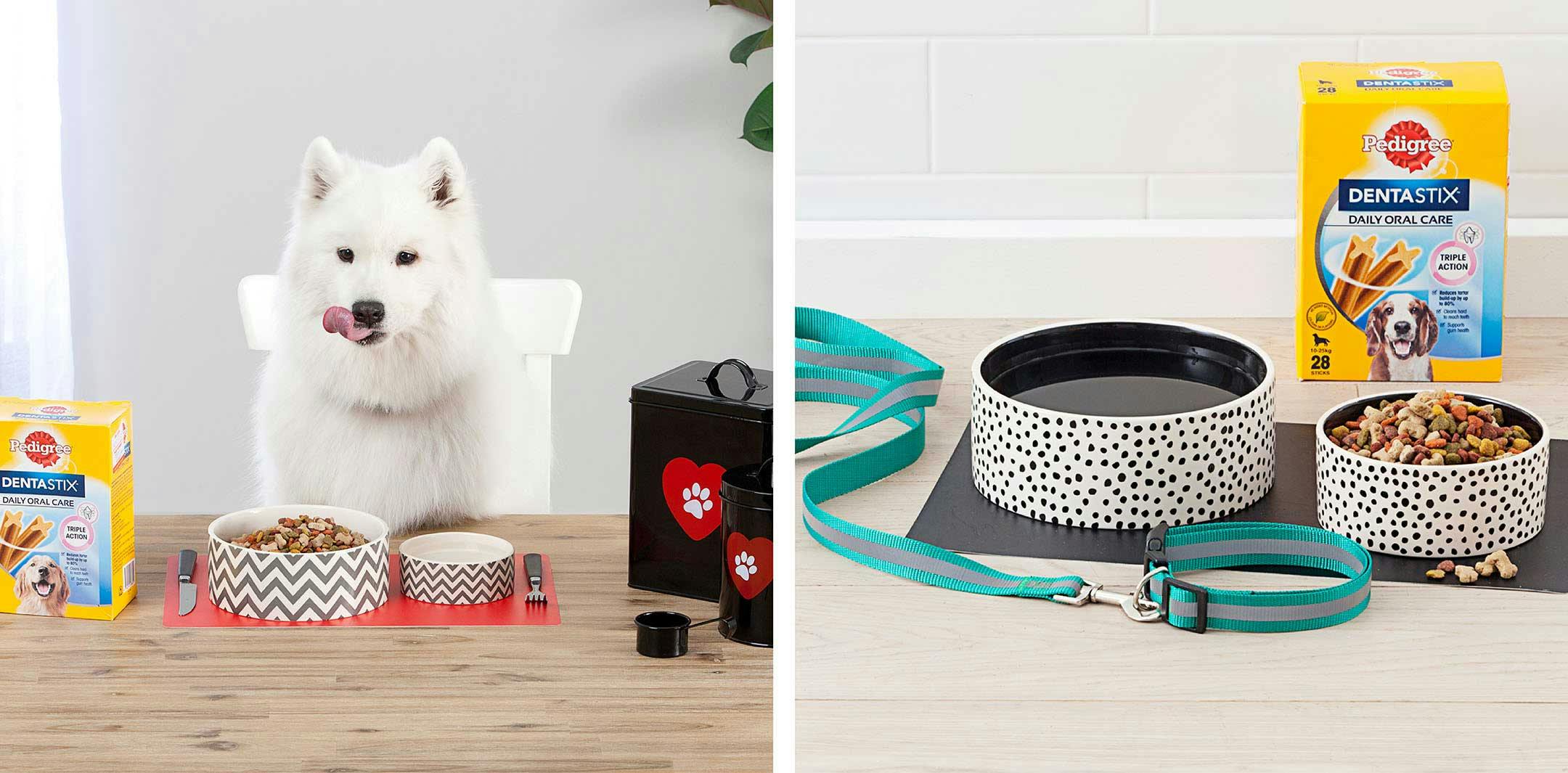 Keeping your pet safe with leashes and collars
A leash is a must have item to keep your pet safe and under control. Unless you're in a leash-free zone, your pet is required by law to be on a leash. All cats and dogs must be registered and wear a collar with a registration tag. This is a key part of being a responsible pet owner. Make sure you also have your contact details clearly marked on the collar in case your pet gets lost and any medical information if necessary. Check out our Pet-tastic range of leashes, harnesses and collars all at savvy prices to suit your pet and your budget.
Cat collars should always include a bell to help alert native birds from curious cats. Collars and leashes come in a huge range of fun colours and styles. From bright and cheerful to stylish and sleek so you can mix and match for the perfect combo to suit your pet. Collars start at just $2 (small reflective collar) and dog leashes, which can also be used for cats, from only $3 (small reflective dog leash).
Handy tip: Pop a hook on the wall in your laundry to hang your pet lead so you'll find it easily when it's time for "walkies".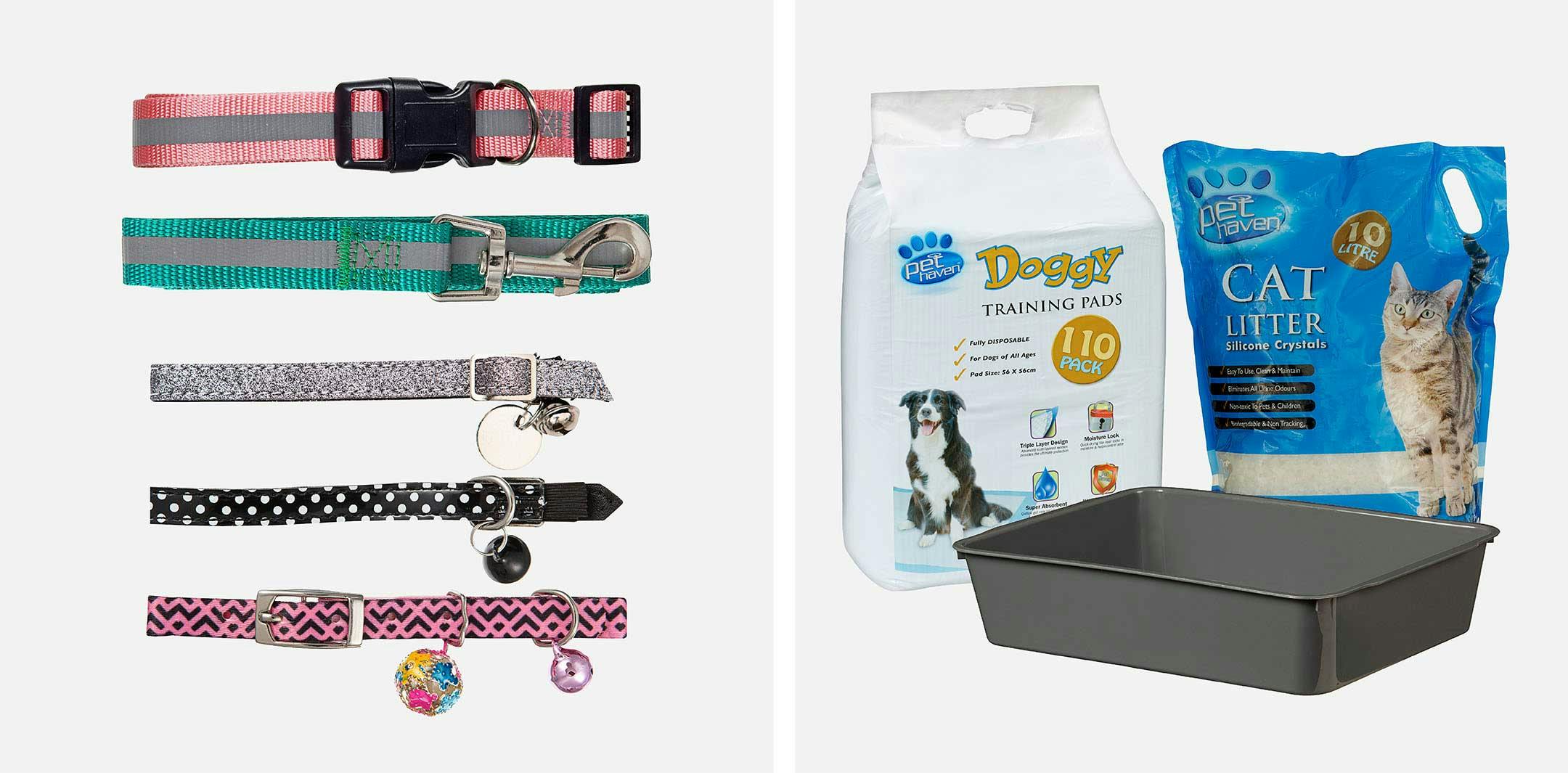 Toilet training tips
It's important to start toilet training for your pet from day one. Puppy training pads are great value at $25 for 110 pads. Using doggy training pads will help your pet learn and prevent any accidents if the pet is being kept inside. Cat litter and trays are essential and teach your cat or kitten good habits they will use for life. Cat trays are only $3.79 and 10 litres of cat litter is only $9 each.
Fun and games with your best friend
Daily walks with your pet in the fresh air is not only vital for your pet's well-being, but it's a great excuse for you to also get some exercise. Pets love to play (and sleep) so it's a good idea to have plenty of fun toys on hand to stimulate them and tire them out. Check out the mix of pet toys at The Reject Shop with balls starting from just $2. At these savvy prices, you can afford to grab more than one!
Handy tip: While you're in The Reject Shop, grab a basket to store all of your pet's toys. It's a great way to keep your home tidy and your pet will know where to find their toys.
Soft toys can be thrown in the washing machine every so often and plastic toys can be kept clean with a bath of soapy water and a quick rinse. This will extend the life of your pet's toys and stop them from spreading dirt and grime around your home.
Although it's unusual, some cats like to be taken for a walk on a lead, while others prefer to play indoors. Luckily, The Reject Shop has small dog leads, that can be used for cats, and affordable cat scratchers in fun designs. Check out our Sisal Scratcher for just $25 or our Mega Scratcher for $69.
Fun idea: A simple, yet effective, idea is to buy multiple scratching poles and link them together with rope to create a dedicated play area for your cat to explore and play in (and stop them using your furniture as scratching posts). Hanging balls and toys off them, like a wand with squid toy, just $2, will also help capture your cat's attention and create hours of feline fun.
Picking the perfect pet name
Picking a name that suits your pet perfectly can seem like a daunting task. It's a name you will live with for a long time so you want to get it right. A good rule is to start with names you think your pet will easily recognise. It's a fact that animals respond better to one or two syllable names. Remember you'll be calling their name out loud, so think carefully before you decide. Naming a huge dog "Tiny" seems like fun, until you have to holler after it at the park. While giving your pet a human name like "Roger" is cool until all the other Roger's in the park answer your call. Try not to make sure the name doesn't sound like a command. "Ray" could sound like "Stay" or "Kit" might get confused with "Sit", this is important to take onboard when shortlisting your favourites. Here are some tips to get you thinking:
Famous People eg: Obama, Prince, Beyoncé, Queenie
Physical Feature eg: Patch, Sox, Curly
Feel good names eg: Lucky or Angel
Or work your way through the alphabet from Alfie to Zeek until you're happy.
Don't forget to check out the full Pet-tastic range of pet essentials, toys and treats. All at great value prices. To make sure you have everything you need take this handy checklist with you to The Reject Shop.
Checklist:
The perfect dog house/mat/pet bed
Comfy blanket
Food & water bowls
Pet treats
Collar & leash
Toilet training pads/kitty litter
Fun pet toys/scratching post
A pet coat