Kids, Recipes
Chocolate Strawberry Hearts
If working out what to send the kids off to school with for lunch wasn't hard enough there is the after school feeding frenzy to deal with. They are tired, hungry, and the day is nowhere near finished. There are after school activities and homework to survive before dinner and bed. After school snacks are often eaten on the run between sport, music, dancing and other activities. For those on the run, containers filled with nuts and fruit are fantastic to have stashed in your handbag for busting hunger emergencies. Alternatively they are snacking while doing their homework at home. It's a hard gig being a parent when all they want to do is watch television or play video games. Then the argument over the after school snack. You want it to be healthy and they want chocolate and chips. It can be even worse if you have older children who are helping themselves to an afterschool nosh while you are still at work.
Some of the after school snack ideas below work very well for lunches too. Especially if your child likes to have a little variety in their lunch box and isn't that fond of sandwiches.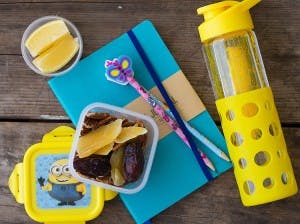 Stocking your freezer
Stocking your freezer with easy to heat up or thaw homemade treats is a great starting point, especially for older kids helping themselves. Kids can be lazy, if the only work they have to do is put it in the oven, it will be eaten. If that is all the work you have to do, that is an even bigger bonus.
Homemade means you control the amount of sugar and fat that goes into what seems like a not so healthy after school treat. Baked treat suggestions for freezing:
Savoury or sweet muffins packed with extra fibre.
Sausage rolls where you have added extra vegies into the filling.
Oven baked chicken schnitzel made from chicken breast tenders, panko crumbs and Parmesan.
Healthier pre sliced cake, like zucchini loaf or carrot.
Making in advance
Besides making in advance and freezing, making something the night before while you are preparing dinner can save time and present an interesting snack.
Lamb lollypops are a great example. Use small, lean, frenched lamb chops, toss them in dukkha, and then oven bake while you go about making dinner. They take next to no time at all to make and cook. Perfect also for lunches. Serve with some houmous, cherry tomatoes and pita bread.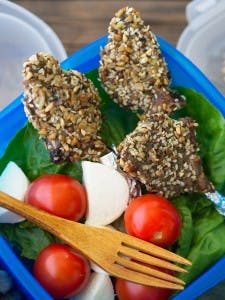 Stay chilled
Icy treats on hand are well received after a hot summer's day at school. Disposable paper espresso cups from The Reject Shop are fantastic to make ice blocks with. Just fill them with the ice block ingredients, cover each one with a little aluminium foil and then place an ice block stick in. The foil will keep the stick in place while freezing. Then all you need to do is peel off the espresso cup and you have an ice block. Some suggestions for your freezer;
Ice blocks made with coconut water and blueberries, or berries of choice.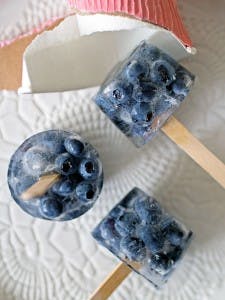 Flavoured yoghurts (you can even place a stick through the lid before freezing, instant yoghurt pop.) Frozen yoghurt tubs are also great for lunch boxes.
Banana pieces tossed in coconut.
After schools snacks can be fun
Get creative and fun with after school snacks when time permits.
Apple rings topped with some peanut butter or low fat cream cheese make great "donuts". Place a couple of strategic sprinkles or sesame seeds on top to complete the illusion. Alternatively you could just sprinkle and little cinnamon on them.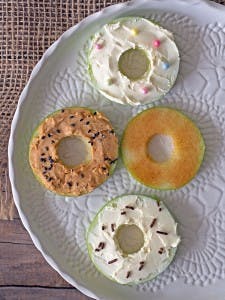 Healthy "tacos" made with mini flat bread, poached chicken, lettuce, corn, shallot, tomato and a sprinkling of low fat cheese are filling and satisfying.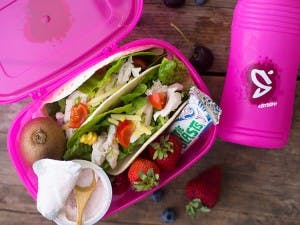 Oven bake flat bread that has been sprinkled with a little raw caster sugar and sesame seeds. You end up with a sweet, crunchy, sesame treat. Make sure they cool completely before serving.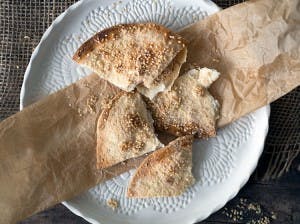 This post is sponsored by us. All images, opinions and words are from Sara McCleary from Belly Rumbles
Find more delicious recipes and ideas on her blog here: http://bellyrumbles.com/
** Lunch containers or variations can be found in store.
Sign up to receive exclusive offers, VIP invites and all our hints & tips