Storage Ideas for Small Spaces
It is a trend these days to downsize your living. We are de-cluttering our lives and removing all the unwanted stuff. There is a movement into tiny houses and tiny living, where we try to have as small a carbon footprint as possible. Part of this downsizing is being able to economically and effectively store that which we own, in such a way to make as much use of the space we have. There are many great ideas, creative solutions, to help with storage. We want to help you with your storage solutions and give you some really cheap ways you can make the most of your tiny spaces.
How to Get More Storage from Small Spaces
This may sound strange, but one of the best ways to get more storage space is to take advantage of the space you have. What do we mean by this?
Think of the space in your rooms as either HORIZONTAL space or VERTICAL space.
HORIZONTAL space is the floor space you have. This can be taken up by a bed, or desk or a set of drawers.
VERTICAL space is wall space. You hang pictures or shelves on your walls.
Wardrobes themselves would not take up space in either of these realms, as generally they are built into the wall. However, there is vertical space on the wardrobe doors, both sides.
When you go looking for storage solutions you want to consider - How the horizontal or vertical space is being used badly, and how could you tidy up or make more efficient use of the space.
Let's go room by room and see how we can help you make the most of your space.
Storage in the Bedroom
This is one of the most important places where storage solutions really come in handy. How do you store your clothes? Where can you store them so they're not in the way? How about your shoes?
First, look at the space you have available.
Under the bed
Is there some horizontal space under your bed? This is often the most under-utilised space in the bedroom. You can get some under-bed storage boxes, with wheels that roll under the bed and out of the way.
What can you store in these boxes? Shoes is an idea. Tidy up the shoes from around the bed and store them together underneath your bed. Other ideas include seasonal clothing, such as heavy jumpers and jackets during the summertime.
Books are also a great idea for storing under the bed, especially if you're of the habit of buying more books than what you have shelves to store them. You can also roll over in bed, reach down and pull out a book to read.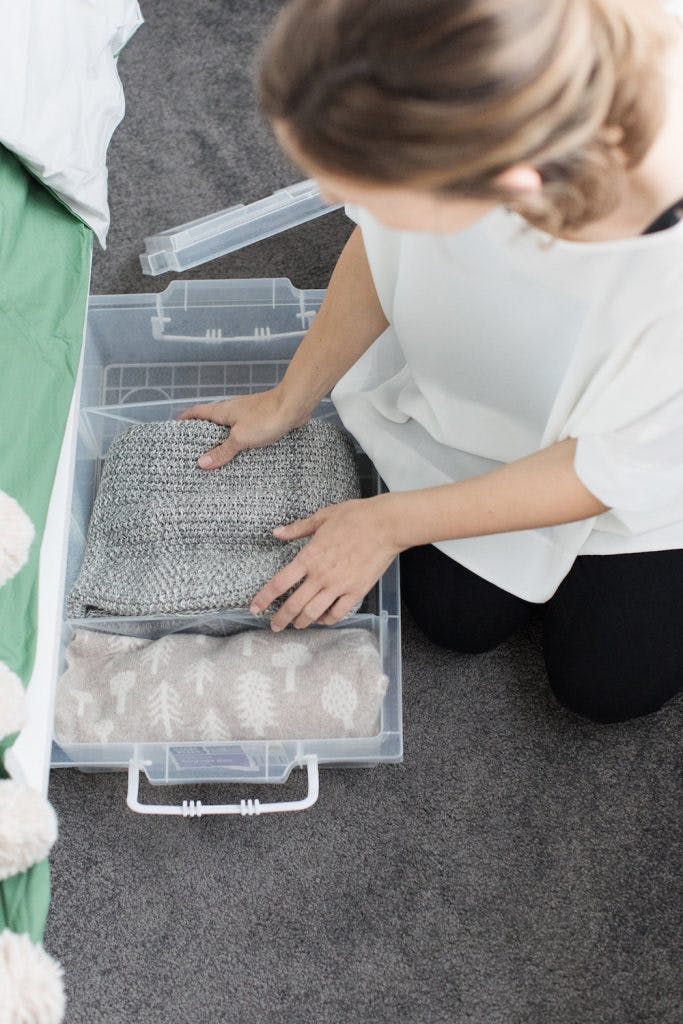 The Walls of your Bedroom
Here we talk about the vertical space in your bedroom. Firstly, the wall above the head of your bed. Could you install a shelf there, to hold books, your alarm clock, or your watch when you go to bed? If you don't have space beside your bed, this is often the best idea and good use of the vertical space.
Stacking your shoes with shoe boxes. Storage boxes which stack on top of each other are excellent use of the vertical space. You can take this to the next level with shoeboxes which can stack up on top of each other.
They come in small, medium and large sizes, are see-through and have a little door to make getting your shoes so easy. You can put your everyday shoes at arm level, easy to reach in and get. Special shoes closer to the ground, so you're not bending over every day to get your shoes.
You can also use these shoe storage boxes for other items. Jewellery is one idea. Socks, perhaps, to go with your shoes? Ties and other smaller clothing items. This way, they're at eye level, you can see what accessory you want, to colour coordinate with your outfit, without having to go digging through drawers.
Your Wardrobe
The third-place you can find ways to utilise storage space is with your wardrobe. Firstly you have the doors of your wardrobe.
You can purchase some over-the-door hooks, giving you some extra hanging space just inside your wardrobe, suitable for scarves and belts, or handbags.
You can also purchase a mirror which hangs on the back of your wardrobe door. No need for a free-standing mirror, and it is a more economical use of space.
The Living Room
Living room storage tends to be around electronics, magazines and extra cushions for the couch. Much like the bedhead in your bedroom, shelving is a great idea here.
Bookshelves can display more than just books. They make excellent storage and display for your DVD collection, photos and holiday knick-knacks. They fill up the vertical space in your lounge room.
Ottomans with a lid, so you can store rugs and cushions inside, are great. You can keep blankets and cushions in here, or a bunch of magazines if you'd like.
In a similar vein, you can get couches which have storage in the armrest, for TV Remotes and game controllers.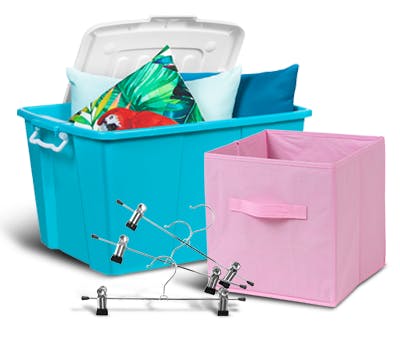 The Kitchen and Pantry
Having space in the kitchen is essential, especially if you're someone who likes to cook, bake and create. Check out your cupboard space for pots and pans and glasses, do you need more? Can you do with less?
Let's look at some vertical space. You can use shower caddies, or stationery holders, hung on removable hooks, for a wide variety of uses.
Herbs and spices rack
Sauces and other condiments
A vertical dish rack near the sink.
Holding cling wrap and baking paper.
These hooks and racks can also be used in your pantry for the exact same reasons. Getting the smaller items off your pantry shelves, leaving room for the staples such as flour and rice and breakfast cereals, all stored in airtight and watertight containers.
We also have hooks which can hang from the door of your oven or cutlery drawers. You can hang oven mitts or tea towels from these so they're in easy reach.
How about attaching mason jars, or some trendy soup cans to the wall to store your bigger utensils?
In the Garage or Garden Shed
The most important thing to consider when cleaning your back shed or your garage is ensuring the storage is weatherproof. The last thing you want is all the important gear you're storing to get water damage.
Stackable storage containers, with or without wheels, are perfect for garage storage. Make sure you get all of the same size, or stack the smaller ones on top. See-through containers help identify what you're storing, but big white labels are a good idea.
Shelving is also handy. Being outside you don't need anything fancy. Just some solid shelves which can handle some weight, depending on what you're storing. Metal shelving you can build and install yourself is perfect, especially if you're storing tools, or gardening equipment, which can scratch and dent.
How can The Reject Help you with Storage?
At The Reject Shop, we have a lot of cheap items which can give you the solutions to your problems in your tiny spaces.
Let's start with our storage boxes.
To help with storage in your bedroom, especially if you're storing seasonal clothes in the under bed roller box, we have vacuum sealing bags to help reduce space. Fill these with your winter woollens, vacuum the air out of them and find so much more storage space.
Over-the-door hooks come in a variety of sizes and uses. Some have velvet to protect and grip delicate clothing. Some are for the kitchen to hang over the door of your oven. Find the range here.
Staying in the kitchen, we have these shower caddies for hanging sauces and condiments; magazine holders for recipe books; double-sided tape to attach jars and cans to your wall, and even glue if you want to attach those jars more permanently.
Can you think of other ways you can increase your living space by utilising your storage space? Any hacks to pack away clothes, dishes, food and more? Let us know through our social media.
As always, we're here to help all Australians save money. We give you great prices and great value on all of your essential needs.