Valentine's Day is almost here and there's no better way to make someone special know how you feel than baking, and it's even better with a little bit of heart.
These adorably sweet heart cookies are a fun way to show off your creativity in the kitchen. Made with roll out cookie dough you can make them as decorative or simple as you like. I've given a couple of examples here and I think you can see with just a little effort these cookies are within most people's baking and decorating reach.
They are a cinch to make using The Art of Baking Decorating Bottle Set by Wiltshire with it's fun pink squeeze bottles and trio of tips.
The small squeeze bottles were a bit of a hit with the kids as they were so easy to hold, and as a huge bonus they are completely sealed once you screw on the lid so no chance of icing squeezing out everywhere. Plus I noticed that the other tips I already have fit into the nozzles, so I think these will be a great choice for my family in future when the kids are involved in the kitchen.
Pink Heart Cookies (makes about 18 cookies)

Supplies needed:
Wiltshire Heart cookie cutter*
Baking tray*
Cookie dough coloured pink (recipe below)
Wire cooling rack*
1/2 cup Royal Icing, (buy premix from supermarket or follow recipe on the back of The Art of Baking decorating bottle set)
Wiltshire decorating bottle set squeeze bottle and plain round tip
Method
Preheat oven to 180°C (160°C fan forced)
Roll out cookie dough on a lightly floured surface. The dough should be about 0.5cm thick.
Baking Tip - If you are having trouble rolling out, work in small batches and roll out between 2 sheets of plastic food wrap.
Using the heart shaped cookie cutter cut out as many hearts as you can from the cookie dough. Place the cut out heart shaped onto the baking tray*. Knead the scraps of dough until it comes together and using a rolling pin, roll back out to continue cutting as many heart shapes as you can.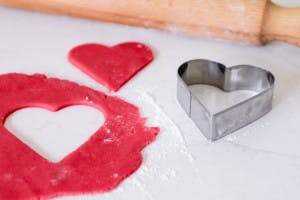 Baking Tip - chill the cut out cookies in the freezer for 10 minutes before baking to help them keep shape during baking.
Place cookies in the oven and bake until the edges just start to turn golden around 10 - 12 minutes.
Remove from oven and allow to cool on tray for 5 minutes. Move the cookies to a wire cooling rack to completely cool down.
When cookies are cool, place white royal icing into the squeeze bottle topped with the plain round tip and pipe a row of dots around the edge of the cookie. To pipe a dot hold the nozzle touching the cookie with the bottle upright, squeeze down on the bottle while lifting the nozzle up off the cookie a little and then stop squeezing. Pull the bottle up and away.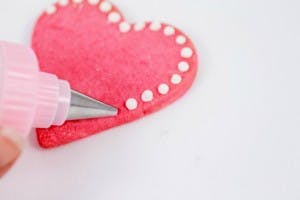 Baking Tip - make sure that your royal icing is not too runny, add extra icing sugar if needed so that it will hold it's shape. If the icing is too stiff and the dots are pointy wet your finger with a little water and gently press down on the points to make rounded dots.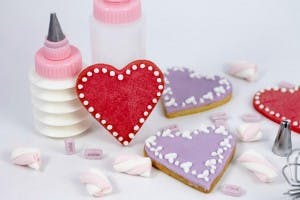 Violet Heart Cookies
Follow the instructions for making pink heart cookies above with the same supplies but the cookies can be plain colour. In addition you will need the three pronged star nozzle from The Art of Baking Decorating Set and extra royal icing tinted violet using food colour.
Cover the top of the cookie completely with violet royal icing using the plain round icing tip. Allow icing to completely dry.
Mix up white royal icing to a stiff consistency and place in the squeeze bottle topped with the star nozzles. Pipe around the edge leaving about 0.5cm in between each star. To pipe a star hold the nozzle touching the cookie with the bottle upright, squeeze down on the bottle while lifting the nozzle up off the cookie a little and then stop squeezing. Pull the bottle up and away.
Replace the star nozzle with the plain round tip and pipe a dot in between each star.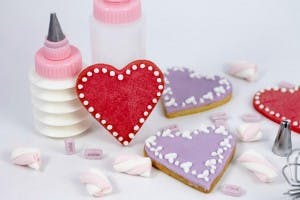 Note -  If you prefer to use rolled fondant you can cover the cookies with a layer of violet fondant in place of the royal icing.
Simple Cookie Dough
200g unsalted butter, room temperature
100g icing sugar
1 egg
300g plain flourA few drops of pink food colour (I use gel food colours)
In a large bowl using an electric mixer, mix together butter and sugar at low speed. Once combined, increase speed to high and mix for a couple of minutes until light and fluffy.
Reduce speed to low, add the egg and mix util just combined.
Add the flour and continue to mix until well combined.
Add the pink food colour and mix until the colour is distributed evenly.
Wrap dough in plastic wrap and place in fridge for 1 hour.
This post is sponsored by us. All images, opinions and words are from Linda from Bubble and Sweet
For more scrumptious recipes, check out her blog: http://bubbleandsweet.blogspot.com.au/
*All products or variations are found in store. The Wiltshire range is available in stores from Thursday 11 February, while stocks last.